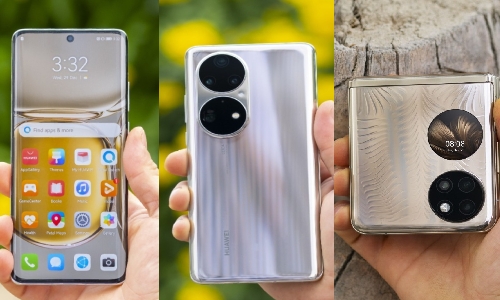 What makes HUAWEI P50 Pro and HUAWEI P50 Pocket favourite 2022 flagship smartphones in Bahrain?
TDT | Manama
The Daily Tribune – www.newsofbahrain.com
Huawei recently announced the launch of not one, but two outstanding new flagship phones: the new HUAWEI P50 Pro and the HUAWEI P50 Pocket.
While HUAWEI P50 Pro returns to the philosophies that sit at the heart of high-end photography, with its True-Form Dual-Matrix Camera that revamps the camera experience from head to toe, an elegant design that is depicted by the Dual-Matrix Camera, a large battery that supports 66W Wired & 50W Wireless HUAWEI SuperCharge, etc., the latter HUAWEI P50 Pocket brings fashion, beauty and amazing tech innovations into the fold setting a new standard for smartphone industrial design.
Huawei joined forces with prominent haute couture designer, Iris Van Herpen, in cross-industry collaboration to create the HUAWEI P50 Pocket Premium Edition.
The latest flagship smartphone takes HUAWEI IMAGE™ to new heights with the improved HUAWEI XD Fusion Pro image engine, which now supports Ultra Spectrum Image Technology.
The overall user experience sees major improvements, with the Main Screen offering a large display and the Cover Screen featuring new ways for consumers to interact with the device.
Let us look at their features from up close to understand why we chose these two flagships from Huawei as our favourite choices this New Year in Bahrain.
HUAWEI P50 Pro
HUAWEI P50 Pro features a True-Form Dual-Matrix Camera that comprises a powerful Main Camera Matrix and SuperZoom Matrix.
The hardware is integrated with the HUAWEI XD Optics and HUAWEI XD Fusion Pro image engine, resulting in high-resolution images that are brighter, shot with more light taken in, and cleaner with more details.
A new super colour filter system with True-Chroma Image Engine and Super HDR technology provides comprehensive enhancements to details, colours and dynamic range.
The True-Form Dual-Matrix Camera supports 4K video recording on both the front and rear, providing crystal clear footage from every angle.
The display on the HUAWEI P50 Pro features a 6.6-inch 120Hz True-Chroma Display with a 300Hz touch-sampling rate.
The HUAWEI P50 Pro incorporates a massive 4,360mAh battery, while also supporting 66W HUAWEI SuperCharge and 50W Wireless HUAWEI SuperCharge.
It runs on EMUI 12, which offers a straightforward, smooth, safe and reliable user experience for working, studying, gaming, entertainment or video editing.
Thanks to the Super Device features, Huawei has consolidated different tools into the Control Panel (Device+) menu with simple swipe users can explore the Control Panel and get quick access to audio playback, Wi-Fi and Bluetooth settings, as well as making it easier to control multiple devices as if they were controlling just one device.
P50 Pro can also function as a wirelessly connected external storage unit for the PC and can also transfer MeeTime calls onto HUAWEI Vision smart TV.
HUAWEI P50 Pocket
The HUAWEI P50 Pocket folds seamlessly into an ultra-slim, lightweight body that is a joy to hold.
Unfolded, it offers a generous fully flat 6.9-inch screen, 21:9 display, which delivers an extraordinary experience when watching videos or movies.
P50 Pocket comes in two dreamy colourways: White and Premium Gold.
The back of the device captures the shadows and texture of the earth, which are brought to life through the advanced 3D micro-sculpture design, on the white version of the phone The P50 Pocket fully supports True-Chroma Image Engine, HUAWEI XD Optics and more.
Furthermore, it also comes with an improved and reimagined version of HUAWEI XD Fusion Pro.
The HUAWEI P50 Pocket has a 40MP True-Chroma Camera and an Ultra Spectrum Camera, forming the main camera module.
The rear camera features portrait selfie algorithms and uses the big camera sensor to boost low light performance.
Moreover, the HUAWEI P50 Pocket's Ultra Spectrum Camera enables an all-new camera feature: Ultra Spectrum Fluorescence Photography.
This feature interprets aesthetics in an all-new way, creating something that can only be described as a fusion of art and physics.
Lastly, Through the Mirror app, users can use the Sunscreen detection feature to check whether they have evenly applied sunscreen.
If they wish to check for the spread of the cream on other areas, they can double-tap the screen to enable Pro (MONO) mode for that.
The HUAWEI P50 Pocket's Cover Screen supports the display of notifications, schedule, calendar, music, weather, and control of other features.
P50 Pocket also runs on EMUI 12, which offers a straightforward, smooth, safe and reliable user experience.
Thanks to the Super Device features, Huawei P50 Pocket boasts the same cool Super device features listed for HUAWEI P50 Pro.
HUAWEI P50 Pocket packs a 4,000 mAh battery and supports 40W HUAWEI SuperCharge for an effortless, high-speed top-up.