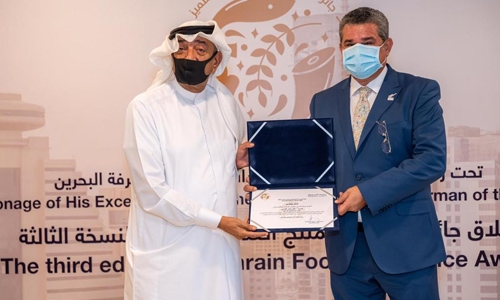 BCCI names winners of "Bahrain Food Excellence Award"
TDT | Manama
The Daily Tribune – www.newsofbahrain.com
Under the patronage of Chairman Sameer Nass, the Bahrain Chamber held on Tuesday 12th October 2021 an awarding ceremony for the winners of the third edition of "Bahrain Food Excellence Award 2021".
Speaking at the event, Nass voiced pride in the participants of the award, and expressed confidence in the quality of local produces and their potential to compete in international markets.
He underlined the importance of seeking new business avenues and consolidating efforts to achieve food security. Head of the Food Wealth Committee, founder of the award Khalid Al Amin, reit[1]erated pride in local produc[1]es and all participants in the award.
He pointed out that the award aims at promoting local products and upgrading their quality, enhancing the competitiveness of local food enterprises, and fostering investments in this important sector.
Al Amin revealed that 49 local enterprises participated in this edition of the award, and 3 winners were selected after thorough evaluation and assessment from a panel of judges, and an evaluation committee that made field trips to the manufacturing facilities of the participating enterprises.
For the established companies' category (over 3 years), "Amalfi" was named the winner, and received a BD 5,000 prize. For the startup category (1-3 years), "Vedge Café" was named a winner, and received a BD 2,500 prize.
For the productive families' category, "E momken" was named the winner, and received a BD 2,500 prize. All winners of the award will also be allowed to use the "Food Excellence" logo on their winning products for a period of two years.
The event was held in the chamber's premises in the presence of board members, Acting Chief Executive Dr. Abdulla Al Sada, head and members of the Food Wealth Committee, the panel of judges and evaluation committee of award, the participants, and media personnel.