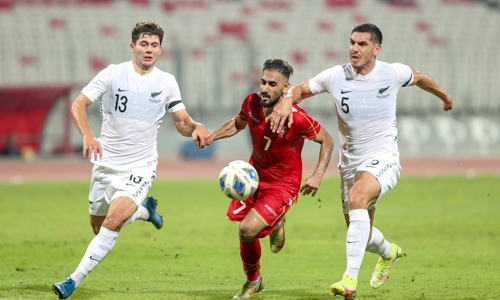 Bahrain concede late goal in loss to Kiwis
TDT | Manama
The Daily Tribune – www.newsofbahrain.com
Bahrain conceded a goal with two minutes left in regular time in a 0-1 loss to Oceania giants New Zealand last night in an international friendly match at the National Stadium in Riffa.
Both sides had quality chances to score in either half, but neither could break the deadlock until substitute Niko Kirwan headed home from close range in the 88th minute.
It was a highly competitive affair for both national teams, who were meeting for the first time since their infamous play-off for a spot at the 2010 FIFA World Cup, which the Kiwis won 1-0 on aggregate after home-and-away matches.
The friendly was the second for both teams in a week. The Bahrainis had previously played Caribbean side Curacao in a match they won 4-0, while the Kiwis won their match against the Curacaoans 2-1.
Bahrain have used the exhibition games as part of their preparations for their upcoming competitions, including the FIFA Arab Cup 2021 this November and December as well as the start of qualifying for the AFC Asian Cup 2023 early next year.
New Zealand had the majority of chances to open the scoring in the first half, with Elijah Just and Callum McCowatt coming closest. Abdulla Yusuf, Sayed Redha Issa and skipper Sayed Dhiya Saeed had the best opportunities for the hosts, but could not convert.
After a goalless first 45, Chris Wood had a free kick that beat the wall but was saved by Bah[1]rain goalkeeper Ebrahim Lutfallah early in the second half. Ali Madan then had a long effort on target that was coolly collected by opposing goalkeeper Michael Woud.
Mohammed Jassim Marhoon came on after the hour-mark for Bahrain and immediately made an impact, creating two quality chances but was unable to finish. The Bahrainis stepped up their attack over the game's closing stages and should have come away with a draw, but a momentary lapse in defending was enough for the Kiwis to take advantage.
Liberato Cacace supplied a precision cross from the left of the pitch to a waiting Kirwan deep in the box, and he made no mistake with his header which was enough to separate the two sides.
Bahrain head coach Helio Sousa started the match with a first 11 that included Lutfallah; Ahmed Bughammar, Abdulla Al Hazza, Hazza Ali and Issa in defence; Ali Madan, Mohammed Abdulwahab, Ali Haram, Komail Alaswad and Saeed in a five-man midfield; and Abdulla Yusuf as the lone striker.
Last night's match marked the end of Bahrain's latest training gathering under Sousa, which was held over the past two weeks. The FIFA Arab Cup 2021 will be held in Doha, with the par[1]ticipation of 16 national teams.
It will kick off on November 30 and continue until December 18. Bahrain are in Group A, which also features hosts Qatar, Iraq and Oman. Bahrain will then be one of 24 teams from across Asia that will be competing in the AFC Asian Cup 2023 qualifiers, which will be in its third round. These matches will be held starting January/February next year.