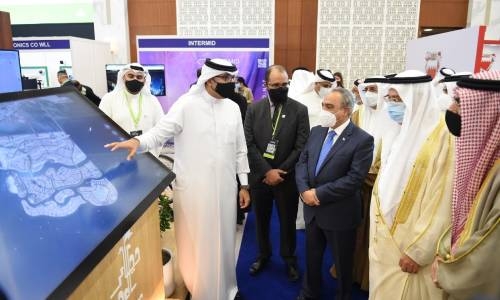 Diyar Al Muharraq platinum sponsor of Bahrain Smart Cities Summit 2021
TDT | Manama
The Daily Tribune – www.newsofbahrain.com
Diyar Al Muharraq, one of the largest real estate developers in Bahrain, announced its backing for the Bahrain Smart Cities Summit as a platinum sponsor.
The summit, held at the Gulf Conventions Center of the Gulf Hotel in Bahrain on Sunday and Monday, was under the Patronage of Essam Bin Abdulla Khalaf, the Minister of Works, Municipalities Affairs & Urban Planning.
Diyar Al Muharraq won the Smart City Solution Award as part of the Bahrain Smart Cities awards lineup during the summit.
The award honours achievements on a sustainability front, especially in the wake of COVID-19.
Diyar said its virtual property adviser allows customers to meet sales representatives virtually, experience 3D virtual journeys of show villas, and submit requests online via the virtual Technical Interface Office.
Diyar is also the first in Bahrain to implement LED streetlights, starting with Al Bareh and Al Qamra and the whole development.
"Multiple solar trees installed across the development powers irrigation system controls resulting in an environmentally friendly solution to the power requirement," Diyar said.
The summit also featured an exhibition on the latest global technology in Construction, Fintech, Waste Management, Green Buildings and Sustainable Energy.
Diyar Al Muharraq showcased its latest projects and developments at its booth.
During the opening ceremony, the Chief Executive Officer of Diyar Al Muharraq, Ahmed Alammadi, discussed the company's vision and the sustainability tools deployed at Diyar.
"As one of the largest real estate developers in the Kingdom, we see it as our duty to help spread the knowledge and principles of sustainable development in the real estate sector, contributing to elevating the real estate industry in line with international standards," he said.