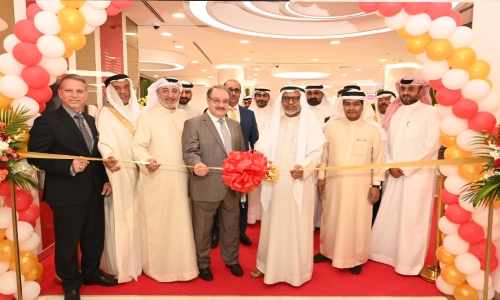 Ithmaar Bank opens new branch in Seef Mall
TDT | Manama
The Daily Tribune – www.newsofbahrain.com
Ithmaar Bank, a Bahrain-based Islamic retail bank that owns and operates the largest Islamic retail banking network in the Kingdom, inaugurated its new Main Branch in Seef Mall, Seef District, yesterday. Ithmaar Bank Chief Executive Officer, Ahmed Abdul Rahim, opened the branch.
The Central Bank of Bahrain Executive Director – Banking Supervision, Khalid Al Hamad, CBB Director - Islamic Financial Institutions Supervision, Fahad Yateem, Ithmaar Bank Deputy Chief Executive Officer, Abdul Hakeem Al-Mutawa, General Manager - Retail Banking Group, Mohammed Janahi, General Manager - Business Banking Group Abdulla Abdulaziz Talib, and General Manager - Information Technology and Banking Operations, Yusuf Alkhan, in addition to bank officials and branch customers were present. "Ithmaar Bank is committed to continuously enhancing its customers' Islamic banking experience," said Abdul Rahim.
"To do so, we keep abreast of new developments in the banking sector to ensure we provide the latest banking solutions to our customers.
We also listen carefully to our customers' opinions and requirements, and we work hard to ensure we provide them with superior banking experience," he added.
The new branch, located near Gate No. 10 in Seef Mall, includes the provision of next-generation ATMs, new digital solutions, use of the latest cutting-edge Self-Service Banking to automate various services, including, for example, instant printing of account statements and certificates, updating customer information, and instant printing of card statements.
Ithmaar said it would be adding more services shortly, such as instant issuance of Debit Cards and eCards and the commissioning of a Cash Deposit Machine.
"The next stage will include digitising customer transactions to ensure a whole new digital banking experience for customers," the bank said. Ithmaar network currently consists of 13 branches and 38 ATMs in strategic locations throughout the Kingdom of Bahrain.