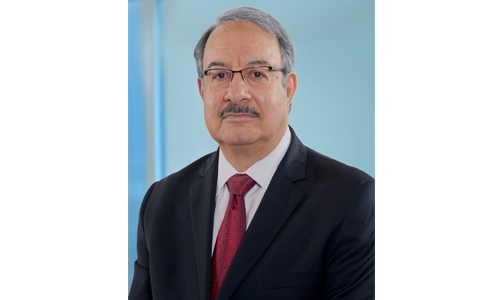 Covid-19 recovery is accelerating the region's digital transformation and Economic Vision 2030 plans
TDT | Manama
The Daily Tribune – www.newsofbahrain.com
The global Covid-19 pandemic has accelerated ambitious regional economic plans through the mass adoption of digital technologies across sectors, said the head of one of the most diversified financial services groups in the Middle East.
Ahmed Abdul Rahim, Ithmaar Holding Chief Executive Officer, said that these changes are creating tremendous growth opportunities for the GCC economies.
"The governments of the region, have long-recognised the importance of diversifying their economies away from oil," said Abdul Rahim. "Over the past few years in particular, they have been encouraging investment in sectors such as tourism, business services, manufacturing, and logistics, to build robust and sustainable economies," he said.
Bahrain's Economic Vision 2030, for example, aims to ensure that every Bahraini household has at least twice as much disposable income in real terms by 2030.
Meanwhile, Saudi Arabia's Vision 2030 aims to develop the national economy, diversify its sources of income, and stimulate savings, finance and investment; and Abu Dhabi's Economic Vision 2030 specifically prioritises the development of an open, efficient, and globally integrated business environment.
"An important driver of rapid progress across all spheres will be digitization, and the private sector has a key role to play in these ambitious initiatives.
The region's financial services sector can support the growth of different industries by providing financing and advisory services, while promoting entrepreneurship and innovation," he said.
Ithmaar Holding's diversified operations Abdul Rahim's outlook is shaped, to a degree, by the diversified nature of Ithmaar Holding's operations which includes retail banking assets in Bahrain and Pakistan, major Takaful (Islamic insurance) assets and significant real estate assets, including a majority stake in Naseej, the region's first fully-integrated development company created to address affordable housing development needs.
Digital-first policies
In line with the United Nations' Sustainable Development Goals (SDGs), the Bahrain government emphasises the importance of digital government as a means of making government services more transparent, accessible, and inclusive to all members of the public.
Over the past year, Bahrain's Information & eGovernment Authority (iGA) accelerated its rollout of eServices and now offers more than 500 services online.
"It falls on the private sector to follow the example set by the government," said Abdul Rahim. "For the banking industry, this means offering comprehensive banking services through online portals and mobile applications," he said.
"Consumers have already adopted this change and our retail banking operations in Bahrain, for example, have reported a significant 25 to 30% drop in cash-based transactions during the period from Q1 2020 to Q1 2021, indicating a large customer shift to digital banking," said Abdul Rahim.
"Cash withdrawals from Ithmaar Bank Automated Teller Machines (ATMs), for example, dropped 26% in terms of volume and 20% in terms of value between Q1 2020 and Q1 2021, with branches reporting almost exactly the same reductions, both in terms of volume and value of cash withdrawals.
Cash deposits at the branches reduced even further during the period, with the number of transactions dropping by almost 33% and the value by 30%," he said "This pronounced drop in cash-based transactions, both at ATMs and branches, correspond with an increase in digital banking transactions," said Abdul Rahim.
"In the Ithmaar Bank example, customer utlisation of digital channels, including eBanking and the mobile application, increased almost 19% between Q1 2020 and Q1 2021," he said.
Reshaping retail banking
"We have witnessed the benefits of this change firsthand within our group, both in Bahrain and Pakistan," said Abdul Rahim.
"In Bahrain, our Islamic retail banking subsidiary, Ithmaar Bank, saw a significant uptake in demand for its digital banking services at the start of the pandemic due to the need for contactless banking and social distancing requirements; and our banking associate, BBK, reported that the pandemic served to accelerate its digital delivery and implementation as it worked to quickly meet exponential customer demand.
In Pakistan, our retail banking subsidiary, Faysal Bank Limited, with its 600 branches in 200 cities, continues to invest in its digital transformation as a key to improving its customers' experience," he said.
"This is likely to continue as clients are now accustomed to digital channels, being able to bank twenty-four-seven and to complete complex transactions such as applying for financing or opening investment accounts in a matter of minutes rather than days," said Abdul Rahim. "While this shift makes banking easier and more convenient for customers, it also allows banks to reduce operational costs and divert resources towards developing more sophisticated services and a better user experience," he said.
Abdul Rahim noted, for example, that advancements in Natural Language Processing are making chatbots sophisticated enough to communicate with customers and provide services in a fully automated way while saving billions of dollars worldwide – disrupting not just the banking industry, but also insurance, where chatbots can automate the collection of incident reports from customers and Artificial Intelligence can analyse the information.
Impact on the insurance industry
"Solidarity Group, which is part of the Ithmaar Holding portfolio and one of the largest takaful groups in the region, started to implement these technologies to reduce claim settlement times for customers and increase loyalty and satisfaction," said Abdul Rahim. "Customer-focused, service-based offerings are being completely reimagined, effectively redefining entire industries and how they operate.
This is particularly true for retail-focused financial services like banks and insurance companies, and sets the stage for significant growth opportunities," he said.
Shifting real-estate landscape
"During the pandemic there was a mass exodus to Dubai's suburbs as families sought larger homes with entertainment facilities and home offices since they now spend so much time at home.
In Saudi Arabia, homeownership is on the rise, with 60% of citizens owning homes in 2020, up from 47% in 2016. In Bahrain, the Ministry of Housing aims to complete five full-fledged, self-contained residential towns by 2025: Madinat Salman, Madinat Khalifa, East Hidd, East Sitra and Al Ramli District," said Abdul Rahim.
"This represents tremendous opportunities for the real estate market as well as for commercial banks offering home financing products," he said.