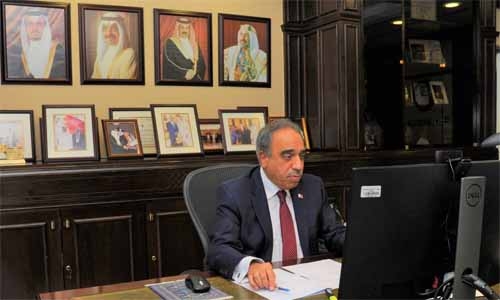 BD80m investment to expand two main roads; more projects in pipeline
TDT | Manama
The Daily Tribune – www.newsofbahrain.com
The Kingdom of Bahrain has spent almost BD80 million to expand two main roads, namely the Shaikh Khalifa bin Salman Highway and the King Hamad Highway. During a remote media briefing arranged by the National Communication Centre that Bahrain, the Minister of Works, Municipalities Affairs and Urban Planning, Eng. Essam bin Abdullah Khalaf, discussed several topics covering the government's strategic plan for the roads. It included projects that involve the expansion of the main roads to increase the capacity of the main roads.
He revealed that the first phase of the expansion of the Shaikh Khalifa bin Salman Highway has been accomplished at a cost of BD57.55 million. Works on this project began in 2019 and concluded in 2021, stating that the capacity of this project has increased by 66%, with around 600,000 vehicles are using this road daily. The expansion of King Hamad Highway is also complete with this project costing around BD21.43 million, and resulted in increasing its capacity by 24%. Regarding the development of the main intersections, the Minister said that one of the most important of these projects is the development of the Alba and Nuwaidrat intersections, which were implemented in 2015 and completed in 2019, at a total cost of BD57.55 million.
He explained that one of the most important fruits of this project is reducing the waiting time for vehicles on this intersection from 217 seconds to 138 seconds, by 36%.
There are several projects in the pipeline, including the expansion of the Shaikh Zayed Road at a cost of BD23.4 million. The Minister indicated that this project will increase the capacity of this road by 57%. He stressed that the Ministry is increasing the development projects in the Kingdom to keep pace with the urbanisation movement. Eng. Khalaf affirmed that Bahrain is implementing projects based on the Economic Vision 2030 to design, execute and operate the road network in Bahrain with the aim of providing safe and smooth traffic movement for all road users.
He added that Bahrain has successfully implemented various initiatives to support the strategic plan of the roads, whose main goal is to make a qualitative leap into the performance of the road network as well as keep the doors open for any development works in the future.