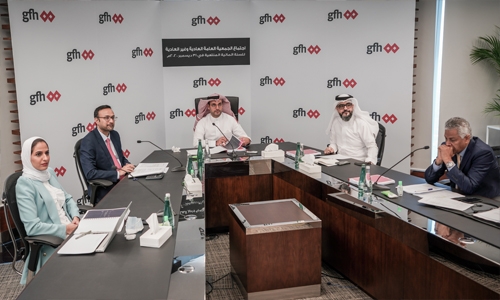 GFH AGM approves US$42 million dividend
TDT | Manama
The Daily Tribune – www.newsofbahrain.com
The shareholders of GFH Financial Group yesterday ap- proved the Board of Directors' recommendation to distribute a dividend of US$42million.
The payment includes cash profits for all ordinary shares, save for treasury shares, at 1.86% of the nominal value of the share (equal to US$0.0049, BD0.001859, UAE dirham 0.0181), totalling US$17 million. The distribution also includes bonus shares for all ordinary shares at 2.56% of the nominal value of the share (one share for every 39.03 shares owned), equivalent to US$25 m.
Shareholders yesterday also approved a report on the Group's business activities for the 2020 financial year, the reappointment of external auditors for 2021 and a recommendation for the voluntary delisting of the Group's shares from the Kuwait bourse.
The EGM further saw share- holders approve the reduction of the Group's capital by the cancelling of treasury shares amounting up to a maximum of 141,335,000 shares worth up to US$37.45 million. This is the result of the cancellation of the Group's market maker agreement and subject to the approval of the competent regulatory authorities.
GFH Shareholders also approved an increase in the Group's capital from US$975.64 m to US$1.00 billion as a result of the addition of bonus shares amounting to 94,339,623 shares subject to the approval of the Central Bank of Bahrain.
Hisham Alrayes, CEO of GFH, said, "Our strong foundations, sound strategy and success in the diversification of our business and income streams, never the less, allowed us to effectively navigate the challenges of 2020. We are proud of GFH's ability to continue to demonstrate our resilience and to create and deliver value no matter how challenging the circumstances."