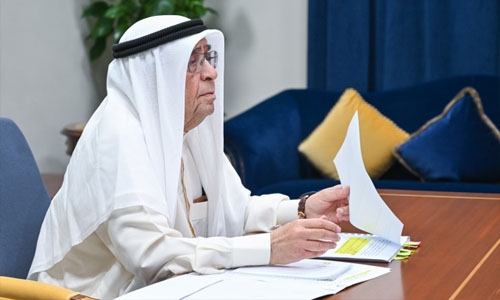 Bahrain e-transactions volume grows 48% to reach BD230 million
TDT | Manama
The Daily Tribune – www.newsofbahrain.com
The volume of e-transactions in the Kingdom of Bahrain last year exceeded BD230 million, marking an increase of 48 per cent compared to 2019.
A report by the Supreme Committee for Information and Communication Technology (ICT) also showed that 83 e-services have been developed last year, an increase of 108 per cent compared to previous years.
These findings were presented during the committee's 17th meeting held remotely yesterday and chaired by its chairman, His Highness Deputy Prime Minister Shaikh Mohammed bin Mubarak Al Khalifa.
The committee reviewed a report on the digital transformation of government services following its directives to public entities to expedite preparing their electronic transformation plans in coordination with the Information and e-Government Authority (iGA).
The report revealed that more than 500 e-services and e-payment services have been provided.
This contributed to reducing government costs by 82 per cent and transactions' time by 76 per cent, as well as increasing the number of transactions by 26 per cent, the panel was told.
iGA also developed an integrated government system covering the Interior Ministry, the Health Ministry, iGA, the National Medical Taskforce for Combating Coronavirus, the National Communication Centre and the Government Services Call Centre in order to be able to deal with the requirements of the COVID-19 pandemic through the BeAware Application.
The Deputy Premier commended the tremendous efforts exerted by iGA to put in place an integrated system of e-services in order to be able to deal with the exceptional requirements imposed by the pandemic.
Also participating in the meeting were Deputy Premier, HH Shaikh Ali bin Khalifa Al Khalifa and Deputy Premier, HH Shaikh Khalid bin Abdulla Al Khalifa, and members of the Committee participated in the meeting. The panel reviewed the latest developments of the National Digital Economy and Artificial Intelligence Strategy. iGA presented a report on the findings of the study it had conducted in cooperation with the United Nations Development Programme (UNDP).