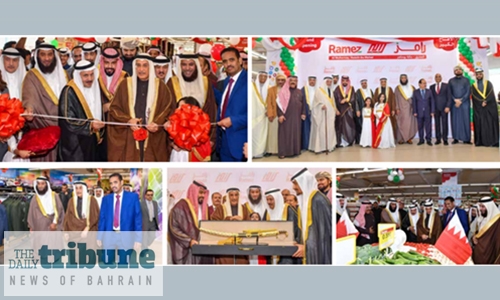 RAMEZ Group opens new hypermarket in Muharraq
RAMEZ Group, a retail major in the GCC and Asia, has expanded its presence in Bahrain by opening its latest hypermarket in Juffair, yesterday.
The new hypermarket, also RAMEZ Group's seventh in the Kingdom and 42nd in the region, was officially inaugurated in the presence of Ramez Al Awadi Chairman of RAMEZ Group, ministers, ambassadors, businessmen and other dignitaries.
Located in Halat Bu Maher at the heart of the historic city of Muharraq, the sprawling 5,000 sq. ft. new hypermarket consists of two floors with a 250 sq. ft. car parking space for more than 220 vehicles.
"We are highly grateful to HH Shaikh Khalid bin Abdullah Al Khalifa, the Deputy PM of Bahrain, for opening our 7th RAMEZ hypermarket in the Kingdom, which reflects the wise vision of Bahrain's leadership and the permanent support of the government for the national investments and Bahraini projects," Al Awadi added.
All Bahraini staff
"We are committed to train and deploy more young talented Bahrainis in all our branches and outlets, and we are proud to announce that RAMEZ Halat Bu Maher branch employees are all Bahrainis," Al Awadi pointed out.
Al Awadi asserted his steady confidence in the bright future of Bahrain and said he is looking forward to enhancing their local presence with its upcoming Janabiya branch.
Commenting, Mohammed Ramez Al Awadi, CEO of RAMEZ Group, said: "RAMEZ Group is working hard to be the leading player in retail markets, providing high-quality products and commodities with reasonable prices that suit all consumers.
We are also committed to propping up the national economy, via pumping up more investments, and creating more high profile jobs for Bahrainis."