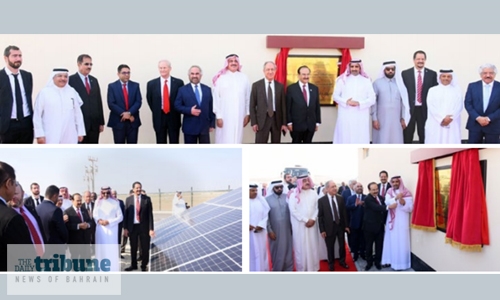 Oil minister opens Tatweer's 3 Megawatt solar energy plant
Tatweer Petroleum's 3 Megawatt Solar Power Plant was inaugurated by Shaikh Mohamed bin Khalifa Al Khalifa, the Minister of Oil, on Tuesday, in Sakhir.
The new plant is expected to generate more than 5400MWh per year. The power generated by the plant is also equivalent to the energy consumed by 300 Bahraini homes, bringing the company's use of renewable energy to 6 per cent.
Inaugurating the project, the minister said Bahrain is committed to developing programmes and plans to protect the environment in various vital sectors in line with the United Nations Framework Convention on Climate Change. "This plant is a distinct and ambitious step to reduce the use of natural gas to generate electricity," the minister said.
The project also forms part of Tatweer's contribution to the Kingdom's goal of 5 per cent renewable energy by 2025 in line with vision 2030.
The opening ceremony was held in the presence of Dr Abdulhussain Mirza, President of the Sustainable Energy Authority, executive management members of the National Oil and Gas Authority (NOGA), the Oil and Gas Holding Company (nogaholding) and subsidiary companies and other energy-related companies.
It is worth mentioning that the Tatweer Petroleum company established a solar power plant in February 2016 with an estimated capacity of 1 MW to meet the total energy requirements of the company's headquarters in the region.