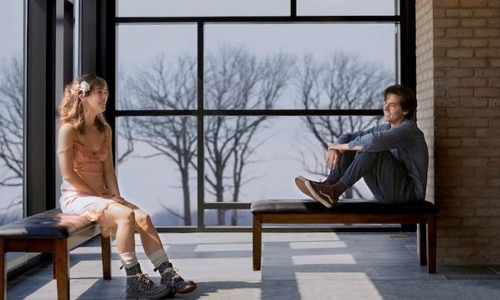 Five Feet Apart: sickly teen romance dies a slow death
The disease in Five Feet Apart, the latest romantic drama about two teens in love where at least one of them has an incurable disease, is cystic fibrosis, and they both have it. They meet in the hospital. Stella (Haley Lu Richardson), our chipper, somewhat obsessive-compulsive, video-blogging protagonist, is in for a "tuneup," as she puts it; Will (Cole Sprouse), the floppy-haired, soft-featured bad boy of the CF world, has a bacterial infection and a pessimistic attitude about taking his meds.
Both are free to date and fall in love with whomever they please, with one exception: Because of the risk of cross-contamination, two people with CF can never touch each other. The rule of thumb is to always stay six feet apart. (Cutting it down to five is Stella's version of taking a risk.) Directed by actor Justin Baldoni from a screenplay by first-timers Mikki Daughtry and Tobias Iaconis that is somehow not based on a Nicholas Sparks novel, Five Feet Apart is well acted by its two leads, but especially by Richardson, who has a natural, down-to-earth persona reminiscent of Jennifer Lawrence.
Stella and Will's chaste puppy love is cute, with the sad reality of their situation always lurking in the periphery (and often given center stage). They're supported by Kimberly Hebert Gregory (from HBO's Vice Principals) as their stern but loving nurse and by Moises Arias as a fellow CFer (Stella's term) who happens to be gay.
Having a third patient in the mix means more possible combinations of who will live and who will die — the audience would revolt if a disease-of-the-week movie had zero casualties — but it's still fairly predictable. Then again, that's better than most actual Nicholas Sparks plots, which tend to be unpredictable because they are insane. This one hews pretty closely to reality while checking off the boxes for what a weepy teen romance is supposed to look like.