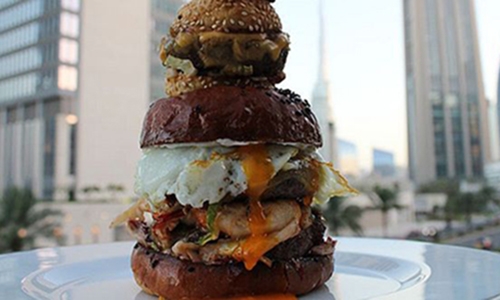 Dubai restaurant set to launch $136 luxury burger
Dubai: One of Dubai's popular new opening is to offer a special AED500 ($136) burger this month to celebrate what is the National Burger Day in both the US and Australia.
Firebird Diner's Burger Khalifa is part of the DIFC restaurant's Burger Domination Week, and is almost certain to be lighting up your Instagram feeds between May 22-28.
Also on the menu that week are the 'All American Slider', 'Down South Dirty Bird', 'The Big Tex' and 'Arabian Burger'.
The signature item justifies its eye-watering price tag by being loaded with two prime USDA Beef Patties, a Maine Lobster Tail, seared foie gras, black truffle aioli, and a sunny side egg.
The prices of the items range from AED50 to AED120 (BD 5 to BD12)
Firebird Diner is the brainchild of celebrity chef Michael Mina and located at newly-opened Four Seasons Hotel DIFC.
It comes with all the high-standards of the chef's of other outlets, including a self-titled spot, Bourbon Steak and RN74. It is designed by the famous American interior designer Adam Tihany, and comes with high-end touches on a traditional American diner scene, including booth style seating.