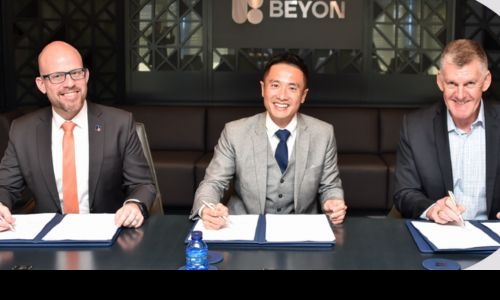 Beyon Connect joins hands with Adera Global and Cumolo9 for 'ONEVIEW' in Singapore
TDT | Manama
The Daily Tribune – www.newsofbahrain.com
Beyon Connect, part of the Beyon Group, has announced a partnership with Singapore's Adera Global and Cumolo9, based in New Zealand, to establish a joint venture 'ONEVIEW' in Singapore.
The shareholder agreement, which was signed by the three parties in Singapore on May 17, brings a new innovative digital platform to Singapore and other parts of the ASEAN region, through the launch of digital postbox solutions, based on Beyon Connect's OneBox platform, the Company's flagship product.
ONEVIEW aims to deliver an end-to-end encrypted digital communication platform that enables secure communication between public authorities, businesses and citizens, creating a digital ecosystem where the individual user is always in control of their own data.
ONEVIEW will provide customers with a digital postbox and enable public authorities and businesses to interact with them digitally, removing the need for physical interaction to complete important documentation.
Users can securely receive and send messages, documents and related sensitive information, without worrying about data breaches, cyberattacks or identity theft.
The new platform is expected to be available in Singapore by Q4 2023, with plans to expand to other regional countries in the near future.
Beyon Connect CEO Christian Rasmussen expressed his pleasure on the partnership signing, stating, "We are delighted to align with Adera Global and Cumulo9, who share our passion for creating highly secure digital postboxes and communication platforms."
Beyon Chief Digital Growth Officer, Shaikh Mohamed bin Khalifa Al Khalifa, added, "This marks a significant milestone for Beyon Connect and reinforces our commitment to driving digital transformation."
Adera Global Executive Director, Marvin Tan, said, "We believe that ONEVIEW has the potential to set a benchmark in the region and transform the way people manage their bills and documents." Cumulo9 CEO Chris Hogg added,
"As a company that is committed to providing cutting-edge solutions that help businesses thrive in a digital age, we are pleased to support ONEVIEW in its mission to digitize bill payment management in Southeast Asia."
Shaikh Mohamed bin Khalifa Al Khalifa