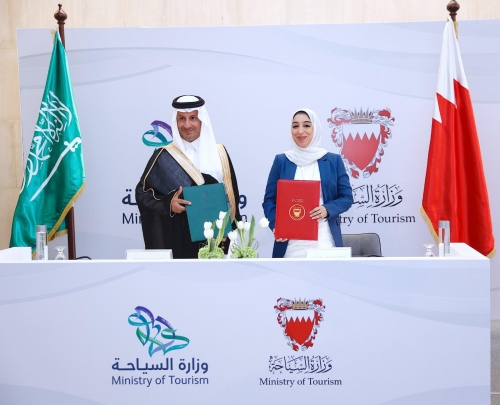 Bahrain and Saudi Arabia to be promoted as a single tourism destination
TDT | Manama
The Daily Tribune – www.newsofbahrain.com
Bahrain and Saudi Arabia have officially inked a Memorandum of Understanding (MoU) that seeks to position both nations as a singular regional and global tourism destination.
This landmark agreement not only signifies a pivotal milestone in their bilateral relations but also sets the stage for an exponential surge in their respective tourism sectors.
It is in line with the wise visions of His Majesty King Hamad bin Isa Al Khalifa, the King of Bahrain, and His Majesty King Salman bin Abdulaziz Al Saud, the Custodian of the Two Holy Mosques, with the implementation of the sound directives of His Royal Highness Prince Salman bin Hamad Al Khalifa, the Crown Prince and Prime Minister, and His Royal Highness Prince Mohammed bin Salman Al Saud, the Crown Prince of Saudi Arabia and Prime Minister.
The MoU was signed by Tourism Minister H.E. Fatima bint Jaafar Al Sairafi and H.E. Minister of Tourism Ahmed Al Khateeb of Saudi Arabia.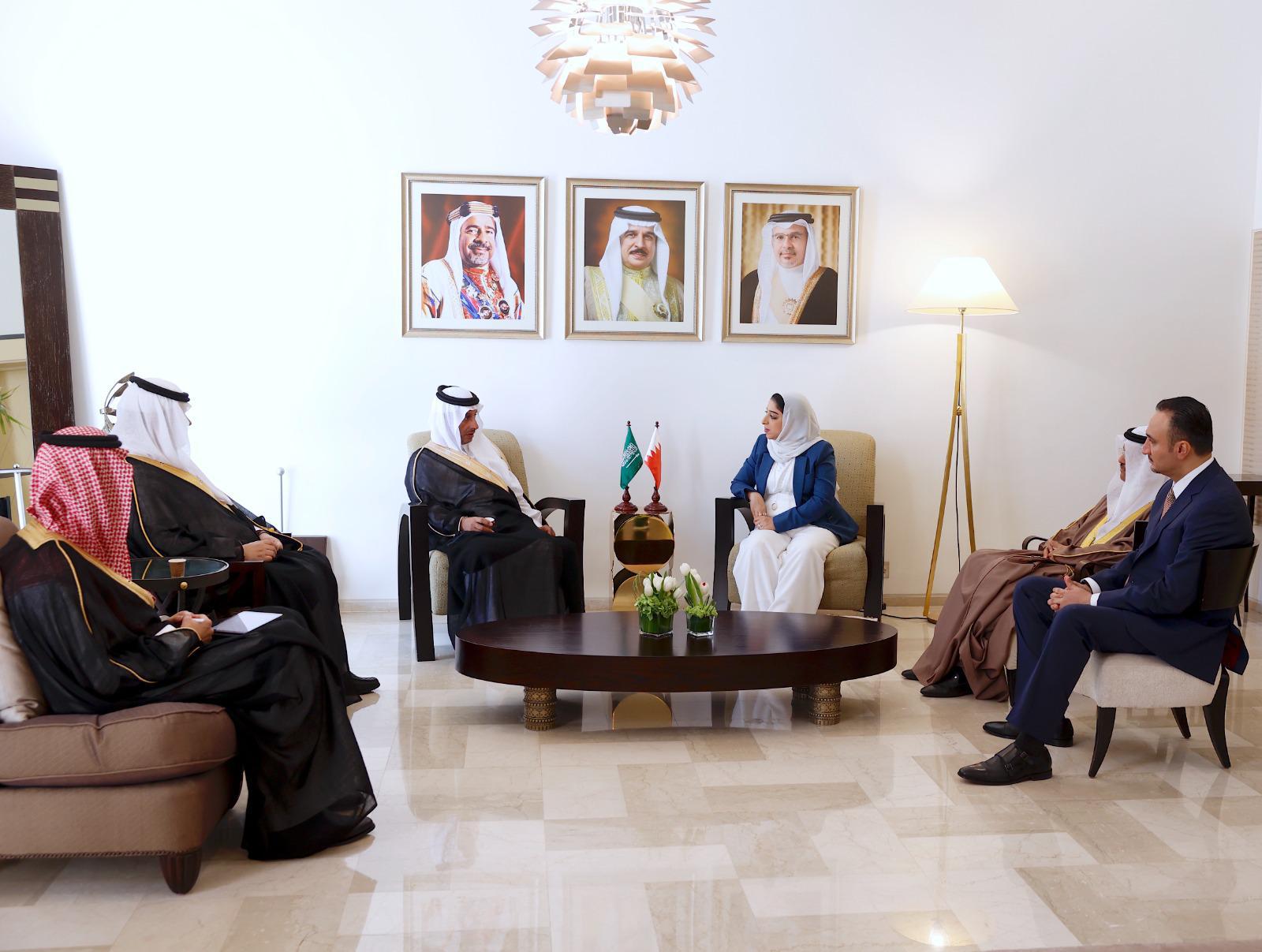 The signing took place in the presence of Dr. Nasser Qaedi, CEO of the Bahrain Tourism and Exhibitions Authority, and H.E. Shaikh Khalifa bin Ahmed Al Khalifa, President of the Bahrain Authority for Culture and Antiquities, as well as representatives from both ministries of the two kingdoms.
The official ceremony was held in Manama. This ambitious collaboration aims to strengthen relations between the two kingdoms. It reflects their sincere and determined efforts to enhance cooperation in the field of tourism.
The memorandum includes multiple provisions that expand the scope of tourism cooperation between Bahrain and Saudi Arabia, fostering greater collaboration in various areas of mutual interest.
The Memorandum of Understanding establishes a framework for combining efforts to market and promote tourism activities and programmes in both kingdoms.
It involves coordinating joint events to attract more tourists, fostering growth in specialised tourism sectors, and collaborating with tourism agencies and regional and international tour operators to create shared tourist destinations.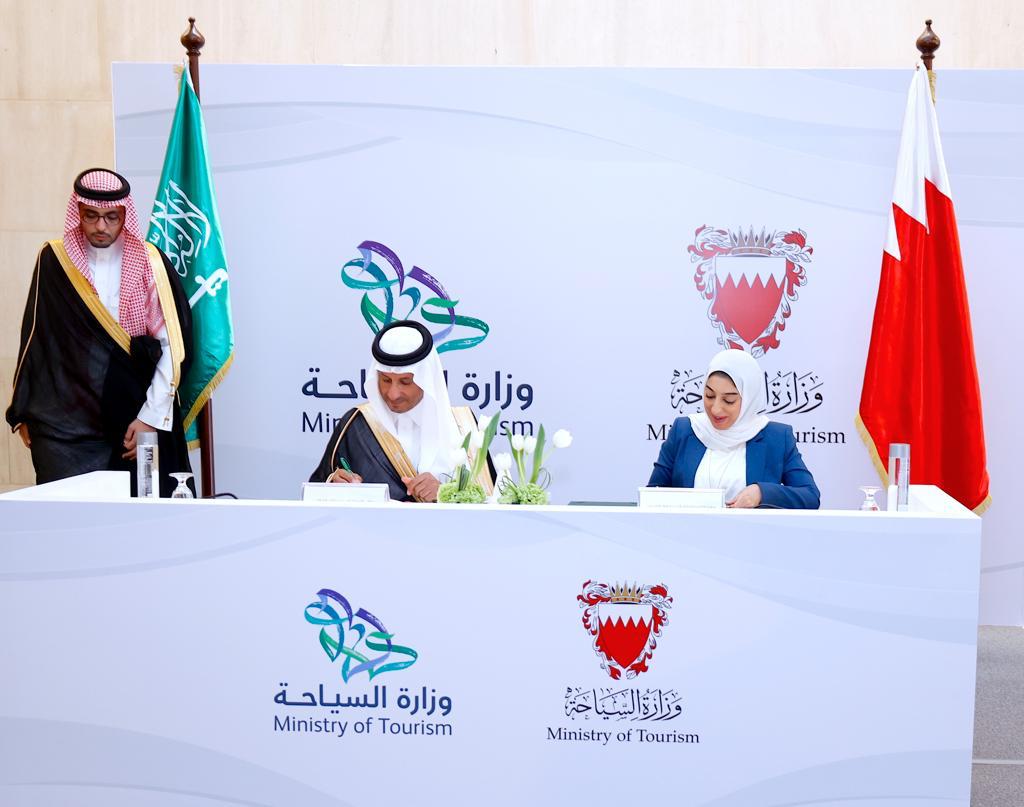 Furthermore, the MoU aims to enhance collaboration in various areas of the tourism industry, striving to achieve sustainable tourism development in both nations. This involves exchanging information and experiences related to tourism legislation, data and statistics, licencing, operation, and management of tourism facilities, and developing human resources in the tourism sector.
The MoU encompassed various aspects to enhance tourism collaboration between the two kingdoms. These included promoting visits by experts and representatives from the tourism media in both nations, enhancing tourist destinations, providing support for SMEs tourism projects, and participating in tourism exhibitions and conferences held in both kingdoms.
These efforts aim to foster tourism development and establish a shared tourism vision that respects the traditions and social values of both Bahrain and Saudi Arabia.
Furthermore, the two parties agreed, through this MoU, to harmonise their stances on tourism matters on regional and international platforms, ensuring that these positions align with their traditions and social values, thereby strengthening the bond between the two brotherly kingdoms.
During the signing held at the Bahrain National Museum by the Ministry of Tourism, Al Sairafi warmly welcomed her Saudi counterpart to Bahrain. She commended his genuine efforts to promote collaboration in the tourism sector between Bahrain and Saudi Arabia.
Her Excellency said: "Today's achievements are a source of great pride, marking the culmination of extensive work, numerous discussions, and meetings with His Excellency Minister Al Khateeb.
These interactions took place during our active participation in various regional and international tourism conferences and exhibitions. We have diligently ensured that the cooperative frameworks, as outlined in the memorandum of understanding, are effectively implemented to achieve our shared goals."
Minister Al Sairafi emphasised that significant progress has been made towards expanding horizons through collaborative work teams consisting of representatives from the Ministry of Tourism, BTEA, and the Saudi Ministry of Tourism.
A comprehensive timetable will be established for implementation, goal setting, performance measurement, and evaluation based on the practical execution of the tasks. She revealed that the execution of the MoU sets an exemplary precedent for consolidating efforts among the two nations in order to promote holistic development.
The cooperative endeavours in the tourism industry are envisioned to serve as a milestone in unifying energies and accelerating growth, leading to mutual benefits for all parties involved. Minister Al Sairafi further highlighted the immense advantages that the tourism sectors in Bahrain and Saudi Arabia will derive from the activation of the memorandum of understanding.
She called upon the authorities responsible for private tourism sector establishments and investors in tourism and hospitality to actively participate in this collaborative tourism initiative, extend support, and reap the rewards it offers.