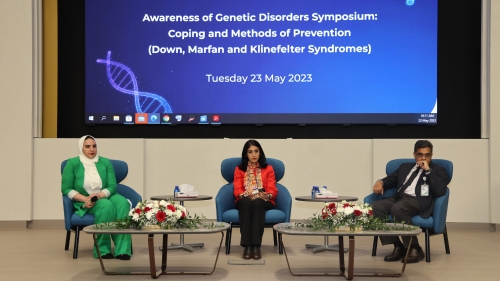 Derasat, AMH hold symposium on genetic disorders awareness
TDT | Manama
The Daily Tribune – www.newsofbahrain.com
The Bahrain Center for Strategic, International and Energy Studies (Derasat) and the American Mission Hospital organised a symposium for experts titled 'Awareness of Genetic Disorders: Coping and Prevention Methods', held at the King Hamad American Mission Hospital in Aali yesterday.
In his opening speech, Dr. George Cheriyan, AMH Corporate CEO and CMO, stressed the importance of cooperation between the medical sector and research community to identify the best means for enhancing public health, guided by advanced global experiences and best practices.
Dr. Cheriyan also acknowledged Derasat Center's pioneering role in raising issues of interest to society, and medical issues in particular, to increase knowledge exchange and societal awareness, besides addressing challenges, among which are genetic disorders and their prevention methods.
He affirmed that AMH's 120- year historic legacy since 1903 reflects its continuous efforts to support social responsibility, and expanding its partnerships based on the Kingdom of Bahrain's formidable achievements and pioneering status in healthcare.
Derasat Executive Director Dr. Hamad Ebrahim Al-Abdulla mentioned in his opening speech that Derasat Center is keen on integrating its efforts with various divisions of the healthcare sector to address challenges, through its status as an experience hub for studies, research, and surveys.
He expressed his hope that this symposium would highlight vital issues for the betterment of society, affirming that Derasat's efforts aim to initiate cooperation channels with various local and international establishments, through joint events and providing dialog platforms to host experts from far and wide, to utilise scientific research in dealing with various issues.
The symposium discussed genetic disorders and prevention methods, with means to alleviate their burdensome effects on individuals and society, focusing mainly on the Down, Marfan, and Klinefelter syndromes.