Two more life-saving consignments from Bahrain reaches Syria through Jordan
TDT | Manama, Damascus, Syria
The Daily Tribune – www.newsofbahrain.com
Reported by Zahra Ayaz
Two more aid consignments with life-saving supplies from Bahrain have crossed into Syria through Nasib Border Crossing with Jordan, amidst the ongoing humanitarian crisis in Syria.
The consignments, third and fourth, include crucial supplies such as shelter tents, blankets, medical and first aid materials, and basic foodstuffs to assist people in the quake-battered provinces.
According to Bahraini Ambassador to Syria, Waheed Mubarak Sayyar, all of the materials have been handed over to the Syrian Arab Red Crescent. He also hailed the latest effort by Bahrain as reflecting its commitment to providing much-needed relief to those affected by the crisis and to support ongoing efforts to rebuild and restore stability to the region.
The Feb. 6 earthquake, which affected 11 Turkish provinces and parts of neighbouring Syria, took the lives of 50,000 people, including 45,968 confirmed deaths in Turkey and 7,259 in Syria. Immediately following the quake, the Kingdom pledged to donate $2 million worth of help to Syria to rebuild schools, as well as over 40 tonnes of relief supplies.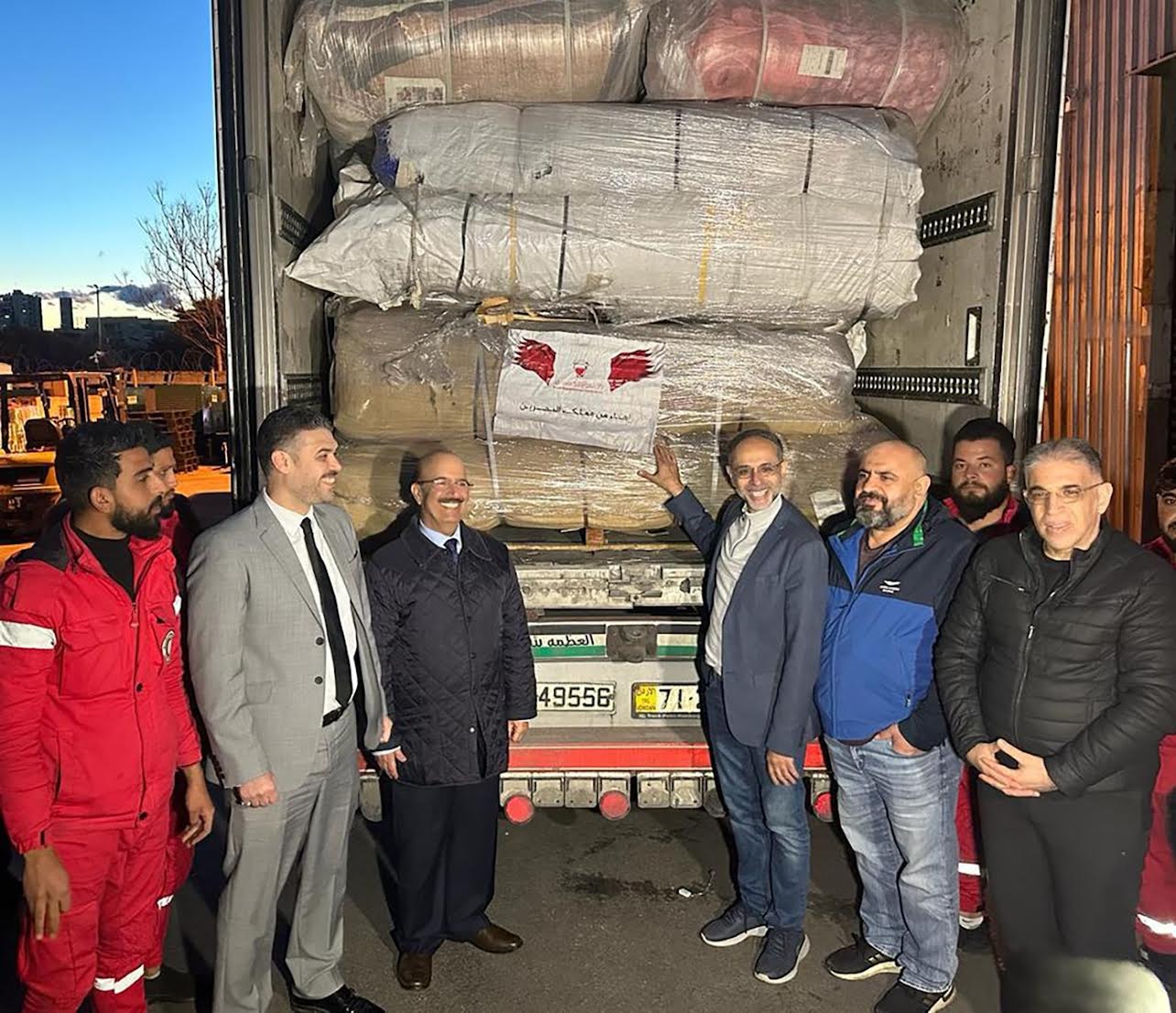 To help those affected by the disaster, a team of doctors from the Bahrain Medical Society, led by Dr Amer Al-Derazi, are also stationed in quake-affected areas performing critical surgeries at hospitals there. Ambassador Sayyar noted that the Bahraini doctors have identified urgent needs and are working closely with the government to procure them from Bahrain.
He revealed that Royal Humanitarian Foundation, led by HM the King's Representative for Humanitarian Work and Youth Affairs, His Highness Shaikh Nasser bin Hamad Al Khalifa, is preparing other relief aid shipments for Syria.
Bahrain's humanitarian efforts follow the directives of His Majesty King Hamad bin Isa Al Khalifa, and His Royal Highness Prince Salman bin Hamad Al Khalifa, the Crown Prince and Prime Minister. It is worth knowing that UNHCR, the UN Refugee Agency, had last month, signed a US$ 1 million agreement with the Royal Humanitarian Foundation (RHF) of Bahrain to support Syrian refugees in Jordan.
Under this agreement, RHF will provide cash assistance to nearly 100,000 Syrian refugees in Jordan, with a focus on 253 refugee families living in urban areas, totalling about 1,000 refugees, over the next six months through UNHCR's cash assistance programme.
In addition, UNHCR said the RHF will distribute cash assistance to about 20,000 Syrian refugee families in Jordan's Zaatari camp, covering cooking gas expenses from January to June of this year.