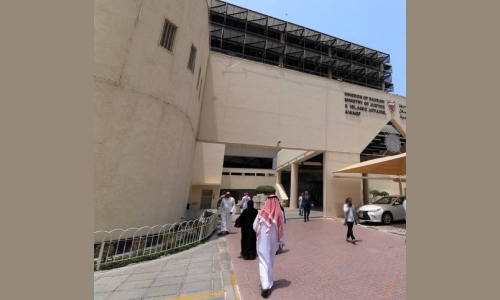 Bahrain court jails three for defaming religion, insulting prophet
TDT | Manama
The Daily Tribune – www.newsofbahrain.com
The Fourth Minor Criminal Court has sentenced three members of a local organisation to one year in jail for defaming religion and posting videos online that insulted religious symbols and Prophet Muhammad (PBUH).
The court has also issued a stay on the verdict and granted the members of the Tajdeed ("Renewal") cultural society bail on BD500 bonds. The public prosecution had requested a maximum of two years in jail. The police arrested the suspects following an investigation into their posts and YouTube videos.
The Ministry of Social Development and Cybercrime Department in the Ministry of Interior informed the Public Prosecution that the videos infringed on the foundation and origin of the Islamic faith, as well as insulted the Prophet Muhammad (PBUH).
Based on this, the Prosecution said it reviewed the posts and recordings circulating on social media, analyzed the comments of its followers, and interrogated the accused. The prosecutors also told the Court they found that the accusations against the suspects were valid, after reviewing the evidence.
The videos reviewed the verses of the Holy Qur'an and stories and miracles of the prophets with interpretations that contradicted the significance and the authoritativeness of the religion. "Such actions were deemed to undermine the foundations of the Islamic faith and its principles," the prosecution statement said.
The statement also emphasised that freedom of opinion and scientific research are guaranteed to all according to the constitution and the law, provided that the foundations of the Islamic faith are not prejudiced. However, actions that violate the right of expression in a way that brings criminal responsibility will not be tolerated.
In a similar incident in 2008, a female American teacher faced charges for insulting Prophet Muhammad by displaying pictures of him in ragged clothing. The incident also involved her insulting a student for wearing a headscarf. Similarly, in 2014, four individuals were taken into police custody for their cyber activities.
They were accused of posting "texts and pictures damaging to companions of the (Muslim) Prophet" on Instagram, a popular photo-sharing service. In yet another incident in 2020, a preacher was handed a six-month jail term by the Third Lower Criminal Court for insulting the companions of Prophet Mohammed (PBUH) during his sermons.
The prosecution argued that the recorded sermons contained expressions of insult and cursing towards the honourable companions of Prophet Mohammed (PBUH).