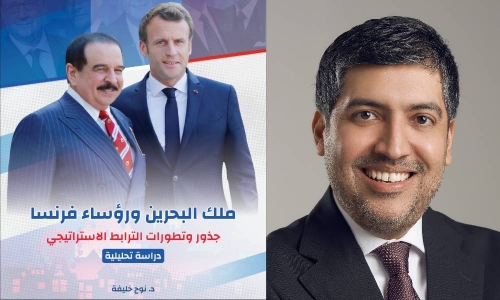 First-of-its-kind reference on Bahrain and France 'strategic interdependence'
TDT | Manama
The Daily Tribune – www.newsofbahrain.com
Bahraini intellectual Dr Nooh Khalifa has revealed his new scholarly production titled "The King of Bahrain and the Presidents of France: The Roots and Developments of Strategic Interdependence", which includes an analytical study based on 151 sources.
According to Dr Khalifa, this includes 106 historical documents, 62 Arabic research papers, 45 French research papers and 40 rare photographs depicting the historical and contemporary relations between His Majesty King Hamad bin Isa Al Khalifa dating back to when he was Crown Prince and Commander-in-Chief of the Defence Forces, and the presidents of France.
The eight studies are on the growing strategic ties in line with the global aspirations characterising the strong relations between the King of Bahrain and the Presidents of France since French President Valerie Giscard in the 1970s to the era of French President Emmanuel Macron.
According to Dr Khalifa, President Macron's joint work with Bahrain is based on multiple advanced and significant gains formed over five decades of solidarity, creative future visions, and efforts that characterised the strategic interdependence march between the two countries.
"This study is considered the first reference of its kind that can be relied upon to celebrate the developments in the strategic interdependence between the two countries," added Dr Khalifa.
"The study also highlights the dimensions of the Bahraini press publication of the French presidential elections, which can be relied upon to showcase the creative progress in relations between nations." Dr Khalifa is a well-known leader in a sovereign institution known for its advanced contributions to the service of Bahrain.