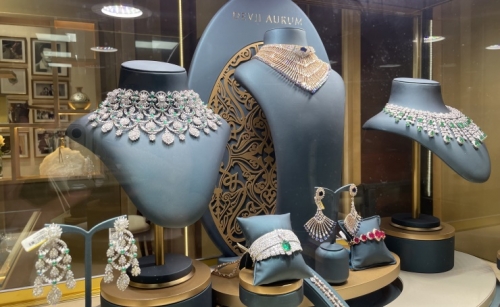 Jewellery Arabia 2022 offers dazzling opportunities, golden promises for Bahrain
Agencies | Manama
The Daily Tribune – www.newsofbahrain.com
Jewellery Arabia 2022, the Middle East's largest jewellery and watch exhibition, is set for another remarkablesuccess as a platform to display exclusive collections and limited-edition pieces to the Middle East buyers' market.
The exhibition was opened on Tuesday under the patronage of His Royal Highness Prince Salman bin Hamad Al Khalifa, the Crown Prince and Prime Minister.
Renowned watch and jewellery houses, including Devji, Al Mahmood Pearls, Asia Jewellers, and Bahrain Jewellery Centre, as well as high-profile international exhibitors have expressed optimism and excitement.
"Exhibition World Bahrain is here to leave an international mark and I am personally impressed by the organization considering the Kingdom's first attempt to hold Jewellery Arabia 2022 in its latest and finest exhibitions centre," Al Mahmood Pearls Owner Mohammed Al Mahmood said.
"We are excited to participate and showcase our latest designs and collections to the public."
Devji Brand Design Director Dev Mahesh Sagar said that Devji has been participating in Jewellery Arabia from its inception which was called Wonders of Golds Bahrain.
"We are very happy and proud to be part of such a magnanimous event that has been happening for a long time under the patronage of HRH the Prime Ministers," he said.
"This year, we have gone bigger in terms of size, location, collections and experience that we want to share with our customers. Each year Jewellery Arabia becomes our platform for what is going to be launched for the coming year. We are excited to be part of Jewellery Arabia and the new venue is just beautiful, we encourage all our clients to come by and experience the world of Devji Aurum."
The 30th edition of Jewellery Arabia also displayed local jewellery brands like Amal Al Majed Jewellery, Aisha Jewellery, and many more.
"I participated many times in international exhibitions that were held by GCC countries, but this exhibition hall is the biggest I have seen in the region.," Amal Al Majed said.
"The turnout is great from the first day and it is bigger than in any of previous editions."
Aisha Abdulmalik co-founder and creative director of Aisha Jewels said the exhibition hall is beautiful, large and spacious. She added they were excited to be part of Jewellery Arabia.
"We love participating in international shows, and we are proud to be presenting Bahrain in different international exhibitions," she said.
Exhibition World Bahrain has attracted visitors from Bahrain, Gulf Cooperation Council, and from different countries, organizers have said.
Visitors said they were fascinated with the wide range of jewellery with designs from the Bahraini gold and pearls, timepieces, precious gems, watches, fine writing instruments, luxury accessories, and more from around the globe.
"Jewellery Arabia is one of the biggest exhibitions that happen in Bahrain and this year it is taking place in the new Exhibition World Bahrain," Mohammed Al Basri, a visitor, said.
"I always prefer to buy my watches from Jewellery Arabia because here we can find good prices and new collections that exclusively would be showcased here in the exhibition."
Huda Al Khaja said she was excited to witness Jewellery Arabia 2022 in its latest form at Bahrain's newest exhibition centre.
"People have come a long way from all over the Kingdom and the GCC to behold local and international brands and enjoy a great shopping experience and we are certainly amazed by space, organization, and professionalism," she said.
The Exhibition World Bahrain, located in Sakhir, is the Middle East's largest event infrastructure, with 95,000 sqm of exhibition space, state-of-the-art facilities, and a variety of F&B outlets.