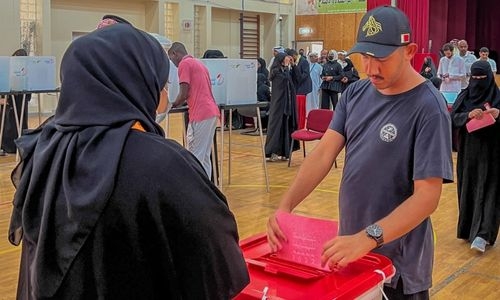 Bahrain election sees high turnout of youth and women
TDT | Manama
The Daily Tribune – www.newsofbahrain.com
Staff Report
The first round of polls held to elect the new Parliament and Municipal Councils on Saturday created many milestones in Bahrain in terms of participation.
Among them was the record number of women and youth who queued up to cast their ballots across the nation.
According to the head of the Legislation and Legal Opinion Commission and the Executive Director of Parliamentary and Municipal Elections 2022, Nawaf Abdullah Hamza, 48 per cent of female voters and 45 per cent of youth participated in the grand celebration of the Kingdom's democratic process.
A total of 252,256 Bahrainis cast ballots in the first round of elections and the high turnout in the elections reflects the national awareness about the importance of elections in consolidating the achievements made during the prosperous era of His Majesty King Hamad bin Isa Al Khalifa, and the follow-up of His Royal Highness Prince Salman bin Hamad Al Khalifa, the Crown Prince and Prime Minister, he added.
The turnout among female was 48pc, an indication of the high level of political engagement of Bahraini women and their prominent role in consolidating democracy practices, Mr Hamza said, adding that the turnout of young voters was 45.37pc, a "figure that reflects the vitality of political and democratic life in Bahrain, and the interest of young citizens in actively participating in the national process of electing lawmakers and municipal councillors".
"There was no untoward incident, or an interruption reported since the start of the polling at 8am on Saturday across the country," Mr Hamza said, earlier. Bahrain recorded 73 per cent record turnout in the 2022 general elections, the highest figure since the first elections in 2002.
This was revealed by the Minister for Justice, Islamic Affairs and Endowments and head of High Committee for Elections for 2022 Nawaf Al Mua'awda during a Press conference at the close of the polls on Saturday night.
The minister said that the success of the record turnout was a culmination of the democratic progress led by His Majesty King Hamad bin Isa Al Khalifa since 2002 and supported by His Royal Highness Prince Salman bin Hamad Al Khalifa, the Crown Prince and Prime Minister.
The number of Bahrainis eligible to cast ballots in the 2022 elections is 344,713. "I congratulate the leadership and citizens for making this process successful, smooth and objective," the minister said, adding that the elections were fair, free, and impartial with voting continuing without interruption across the country.
This year, the Kingdom has recorded the highest number of candidates as 561 and 176 candidates contested for 40 and 30 seats for the lower house of the parliament and for the municipal councils, respectively.
This represents an increase of 20 per cent compared with 2018.