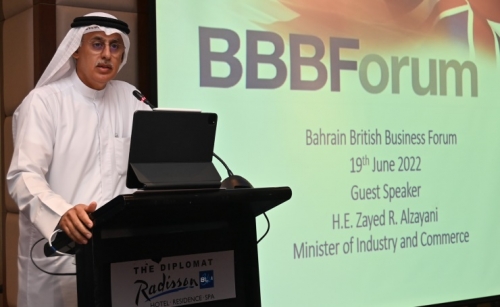 Bahrain-UK trade volume is 'growing'
TDT| Manama
The Daily Tribune – www.newsofbahrain.com
The UK has been Bahrain's major investment partner on a global scale for more than 200 years. Industry and Commerce Minister Zayed R. Al Zayani said that the growth in trade volume between both countries is witnessing remarkable development in various sectors, reflecting the significance of the distinguished historical bilateral relations.
Al Zayani made the statements during his participation as a Guest Speaker in a luncheon organised by the Bahrain British Business Forum (BBBF) in the presence of the British Ambassador to Bahrain, Roderick Drummond, and Khalid bin Rashid Al Zayani, Chairman of the Board of Directors of the Forum, and a number of officials and stakeholders.
During the luncheon, several topics and upcoming projects were reviewed by both countries at the Diplomat Hotel-Bahrain.
The Minister reviewed a number of important and vital topics, including the results of the meetings of the UK-Bahrain Joint Working Group, most importantly the FTA between the GCC and the UK, which is one of the most ambitious and comprehensive agreements, which will contribute to strengthening relations and economic growth by promoting trade in goods, services and other areas that benefit the public and private sectors of both parties.
The Minister discussed Bahrain's strategic and ambitious Economic Recovery Plan, launched by the Bahrain government in 2021.
The new plan aims to enhance Bahrain's long-term economic competitiveness, while achieving sustainability goals, which are based on several pillars that include the labour market reform plan, a regulatory reform package, a strategic project plan, a financial balance programme and priority sector development plan.