When a young Fatima Hasan stared at her sister's artwork with such studious attentiveness, her mother knew she had a little artist in her as well. Soon, Hasan grew into a girl who displayed her works at exhibitions.
As an artist with a passion, she kept developing her passion from a young age through reading art books and practicing her craft. This included painting and learning from videos of other artists.
When Hasan was 11 years old, she won the UNICEF art competition in the Mickey Mouse magazine. This gave her the push she needed. Soon, she discovered another side of the world of art, when she saw images of the world famous works at the Louvre museum.
The works of the renaissance greats such as Leonardo Da Vinci and Michelangelo greatly influenced and inspired young Hasan. "My favourite artists are Da Vinci and Michelangelo... their work is perfection of art," she says.
Hasan recently participated in the Nasser Bin Hamad International Youth Creativity Award function and Malja's Call Out event in Manama. Apart from these, she frequents art competitions outside the Kingdom.
Currently, Fatima Hasan works at the Bahrain International Airport, but being employed in such an active environment doesn't stop her from pursuing her passion.
Art is the root of everything
Hasan elaborates on her peers and her art, "it's valuable to appreciate each artist in the way they deliver."
"The most exciting thing about drawing and painting is that feeling of leaving everything behind you and just focusing on your lines... It is a unique experiment... just before you put your ideas on the canvas or a paper, no one else can see it – just you – the artist, in your head," she adds.
"My work explores a simple meaning of being an artist breaking barriers of limitation, I like to experiment many styles. I prefer the old method – the pencil and paper – for it builds the connection between hands and mind, and I enjoy while working," she says.
Picking 'The Frame Story' as her favourite among her works, she says, "it reflects on the artist's journey of stepping forward and out of the frame to tell you a story..."
On her method for her work, she elaborates, "I used graphite pencils for black and white... it brings out the emotions on her face. The paint dripping from her hands shows who she is. The light in the background – from dark to light – is her journey to becoming an artist... The golden frame, her success, with small little pink flowers and leaves representing the life that she chose."
Her love and respect for the works of Da Vinci and Michelangelo still fuel her dreams. "My future plans involve developing more art projects for myself and participating in more competitions... and visiting Italy to see the woks of my favourite artists," she says with a twinkle in her eyes.
As Hasan continues to follow her passion, she has a message for her peers, "Follow your dreams... carry a small journal in your bag with a pen to sketch or write what inspires you to do art. This world is full of wonders."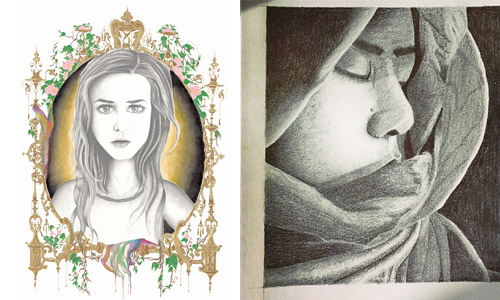 'The Frame Story', one of Hasan's favourite creations
Hasan's rendering of a Great Blue Heron &