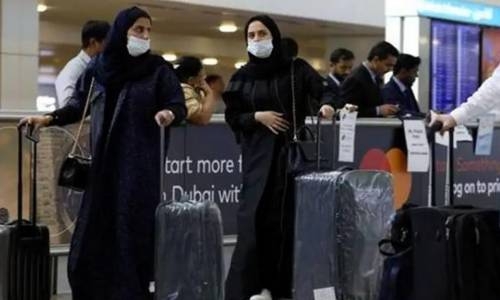 Bahrain tightens entry procedures over new variant detected in South Africa
TDT | Manama
The Daily Tribune – www.newsofbahrain.com
Bahrain has tightened its border controls in response to alarms raised by authorities over a new possible vaccine-resistant coronavirus variant detected in South Africa.
Bahrain's move comes as world nations, including the EU and Britain, are asking travellers returning from South Africa to quarantine, despite the World Health Organization cautions against hasty measures.
Bahrain Civil Aviation Affairs said it is bringing back the Red list which it deactivated last week further easing quarantine measures.
The new red list has six new names - South Africa, Namibia, Botswana, Zimbabwe, Lesotho and Eswatini.
What does this mean?
This means Bahrain is suspending entry of travellers from these countries on all flights, including those who had transited through Red List countries.
There, however, is an exception for citizens and holders of residence visas valid in the Kingdom. For them, Bahrain also reinstated arrival procedures, including testing and quarantine.
Bahrain is maintaining all previously announced procedures for those coming from non-red-list countries. (https:// healthalert.gov.bh/en/category/ entry-procedures-through-airport) The latest decision follows the recommendation of the National Task Force combating the COVID-19 pandemic.
No hasty measures: WHO
WHO had cautioned against hasty measures. "At this point, implementing travel measures is being cautioned against," Lindmeier told a UN briefing in Geneva.
"The WHO recommends that countries continue to apply a risk-based and scientific approach when implementing (curbs)." But European Commission chief Ursula von der Leyen said the EU also aimed to halt air travel from the region. Nearly 100 sequences of the variant have been reported and early analysis shows it has "a large number of mutations" requiring further study, Lindmeier said.
British health minister Sajid Javid said the new variant had probably spread to other countries. Israel barred its citizens from travelling to southern Africa as Prime Minister Naftali Bennett said a few cases of the variant had been reported there.
"We are currently on the verge of a state of emergency," Prime Minister Naftali Bennett said, according to a statement from his office.
Too late for travel curbs?
An epidemiologist in Hong Kong said it may be too late to tighten travel curbs. "I think we have to recognise that most likely this virus is already in other places. And so if we shut the door now, it's going to be probably too late," said Ben Cowling of the University of Hong Kong.
What makes the new variant dangerous?
According to scientists, the B.1.1.529 variant has a spike protein that is dramatically different to the one in the original coronavirus that COVID-19 vaccines. This raises fear about how current vaccines, successful against the more familiar Delta variant, will fare.