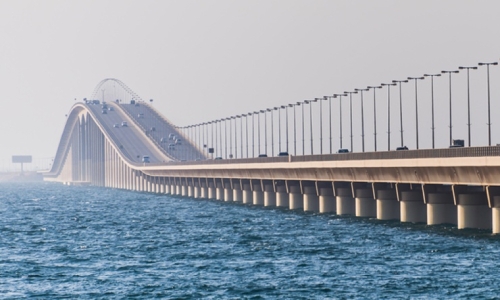 King Fahad Causeway, potent symbol of Bahrain-Saudi Arabia closeness, marks 35 years
TDT | Manama
The Daily Tribune – www.newsofbahrain.com
King Fahad Causeway, a series of bridges and causeways that link the island of Bahrain and Saudi mainland, today celebrates 35 years of operations.
The impressively-engineered causeway, Bahrain's only terrestrial link with another country, is named after former Custodian of the Two Holy Mosques King Fahad bin Abdulaziz Al Saud.
Work on the 25-kilometre long and 23.3 meters wide causeway was launched in 1981 following studies about numerous geographic and technical details, environmental factors and maritime currents.
It was opened to the public on November 26, 1986, during a grand ceremony attended by the Late King Fahad and HH the Late Shaikh Isa bin Salman Al Khalifa.
Cars, buses, trucks, and more recently motorcycles have been steadily using the link to travel quite seamlessly in both directions, boosting its political, economic, social and cultural significance as more than just a road causeway to millions of people and the two Kingdoms and well beyond. Around 400 million people have used the causeway since it was opened.
For most people, the causeway sums up the ease with which they have been able to travel between the two countries
Several Saudi Arabia-based Saudi nationals and foreigners who work or study in Bahrain commute daily while a large number of Bahrain-based expatriates and Bahrainis use the causeway daily to go to their work or universities.
Strong family links between Gulf citizens are a significant factor in the exchange of visits over the causeway. Shopping complexes and recreational facilities are also among the major reasons for trips.
As the causeway became one of the busiest links in the Arab world, drastic changes were introduced to ensure the smooth flow of traffic.
Plans to build a second causeway, King Hamad Causeway, named after His Majesty King Hamad bin Isa Al Khalifa, is progressing.
The new causeway would be used by passenger and freight trains besides vehicles. The railway lines will be part of the wider 2,170-km Gulf Cooperation Council (GCC) railway network.