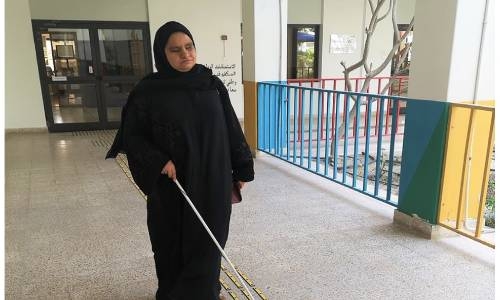 Blind Bahraini teacher shines in Qur'an recitation contest
TDT | Manama
The Daily Tribune – www.newsofbahrain.com
A blind Bahraini teacher at Saudi-Bahraini Institute for the Blind has made Bahrain proud by winning first place in an international Qur'an recitation competition held in Sharjah, UAE.
Houria Al Aali beat 1,900 contestants from all over the world in the event entitled "Our Children are Our Readers" in its second session for the year 2021 in the category of people with special needs.
It was organised by the Holy Qur'an Radio in Sharjah, in cooperation with the Sharjah Foundation for the Holy Qur'an and Sunnah. Participants recited the Book of God in video clips that were judged by a specialised committee, and the names of the first winners in each category were announced.
Houria holds a Bachelor of Arts degree in Arabic language and translation from the University of Bahrain, and a certificate of recitation and intonation from the Ministry of Justice, Islamic Affairs and Endowments.
She is also a graduate at Bahrain Teachers College. About her achievement, she said: "I developed my abilities in the field of the Noble Qur'an by listening to the recorded cassettes that my father was keen to buy for me to memorise the surahs.
My parents were very keen to follow what I memorised since childhood, until I was registered in the Great Bahrain Competition, to represent the Saudi Bahraini Institute for the Blind several times."
Houria won second place in the primary and preparatory stages, and also participated in recitations on the school radio, and a recitation at the graduation ceremony in the presence of the Minister of Education and its senior officials.