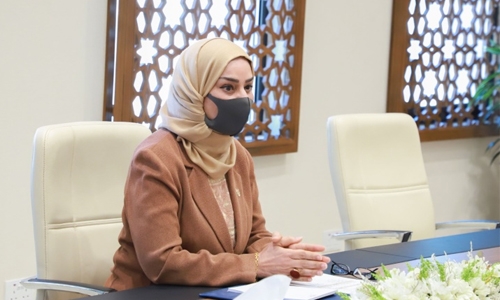 Working with one-team spirit to achieve national interest: Bahrain Speaker
TDT | Manama
The Daily Tribune – www.newsofbahrain.com
Speaker of the Representatives Council, Fawzia bint Abdullah Zainal has affirmed the importance of continuous cooperation between the legislative and executive branches to develop the national economy and serve the public interest. She pointed out the fast-paced steps of the Kingdom of Bahrain in recovering from the coronavirus pandemic and achieving the goals of the comprehensive development march led by His Majesty King Hamad bin Isa Al Khalifa.
The Representatives Council Speaker praised the support of His Royal Highness Prince Salman bin Hamad Al Khalifa, the Crown Prince and Prime Minister, and his continuous follow-up on the national efforts to promote the national economy, boost the kingdom's civilizational achievements and overcome the exceptional challenges according to a comprehensive vision that places the national interest at the top of priorities.
The Representatives Council Speaker was speaking during a meeting today with Minister of Finance and National Economy, Shaikh Salman bin Khalifa Al Khalifa, Parliament Affairs Minister, Ghanim bin Fadhl Al Buainin, and the accompanying governmental delegation.
Attended by First Deputy Speaker Abdulnabi Salman, the meeting cast light on ways of boosting cooperation between the Council of Representatives and the Ministry of Finance and National Economy.
The Representatives Council Speaker lauded the national initiatives of the government within the economic recovery plans. She stressed keenness of the legislative branch on the one-team spirit and coordination with the executive branch, notably in the financial and economic field, to work out suitable solutions to the exceptional challenges facing the kingdom.