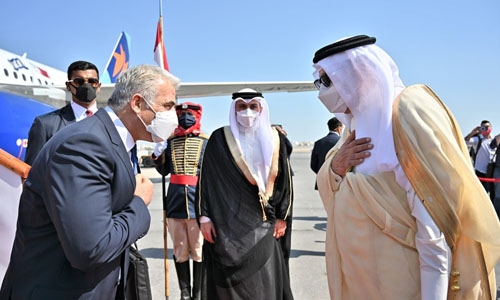 Taking ties to next level between Bahrain and Israel
TDT | Manama
The Daily Tribune – www.newsofbahrain.com
Israeli Foreign Minister Yair Lapid, the first foreign minister to visit Bahrain after establishing ties a year ago, further cemented the Israeli-Bahrain relations with the opening of the Embassy of Israel in Manama, as Gulf Air launched direct flights to Tel Aviv.
Lapid arrived in Manama on a plane with an olive branch painted on its nose, creating history with the first-ever ministerial visit. The Israeli Foreign Ministry said they are signing five memorandums of understanding, including cooperation agreements between hospitals and water and power companies.
Later in the day, he met His Majesty King Hamad bin Isa Al Khalifa and His Royal Highness Prince Salman bin Hamad Al Khalifa, the Crown Prince and Prime Minister.
"His Majesty's leadership and inspiration have led to true cooperation, and our meeting outlined the path forward for our relationship," Lapid said on Twitter after meeting the HM the King.
"We see Bahrain as an important partner, on the bilateral level, but also as a bridge to cooperate with other countries in the region," an Israeli Foreign Ministry spokesperson said.
" Our opportunities are shared. Our threats are also shared, and they aren't far from here," Lapid said in remarks to reporters, according to a transcript issued by his office. It said that Lapid and his Bahrain counterpart signed deals on cooperation in medicine, health[1]care, sports, and on water and environmental conservation.
Shortly after Lapid set his foot in Bahrain, the first commercial flights between Manama and Tel Aviv took off. According to Israeli media, passengers include the heads of Gulf Air and a Jewish chef named Alex, who owns a restaurant in Bahrain and is flying to Israel to see his mother and two sisters.
Upon arrival, Lapid was given a red-carpet welcome by Minister of Foreign Affairs Dr Abdul[1]latif bin Rashid Al Zayani at the tarmac. Walking down the stairs, Lapid slightly bowed his head to Dr Al Zayani as he placed his hand on his heart, smiling at the minister, who returned the gesture. Later in the day, the Israeli minister signed agreements on areas covering water, the environment, economy, hospitals and sports to further solidifying bilateral ties. That, however, happened after his COVID-19 test results came negative.
Director-General Alon Ushpiz and Deputy Director-General for Middle Eastern Affairs Oded Yossef is accompanying Lapid. The meeting, however, is not the first for Lapid and Dr Al Zayani, who held talks in June in Rome.
Israeli Environmental Affairs minister Yossi Sarid was the last minister before Lapid to visit Bahrain and held talks. That visit was in 1994. Lapid's visit follows a meeting on Sunday in New York between the Israeli Prime Minister Naftali Bennet with both Zayani and UAE Foreign Minister Khalifa al-Marar on the sidelines of the UN General Assembly.
Bennet had told Al Zayani that he was looking forward to meeting His Majesty King Hamad bin Isa Al Khalifa soon. The Undersecretary for Political Affairs, Dr Shaikh Abdullah bin Ahmed Al Khalifa, Bahraini Ambassador to Israel, Khaled Yousef Al Jalahma, and the Israeli Charge d'Affairs in Manama were present.
Before arriving in Bahrain, Lapid had also visited the UAE and Morocco, with whom Israel has normalised ties. Earlier this month, long-time diplomat Eitan Na'eh was named as Israel's ambassador to Manama. His appointment came on the same day Bahraini Ambassador to Israel Khaled Yousef Al Jalahma presented his credentials to Lapid.
Israel established formal diplomatic relations with four Arab states last year through the US-brokered "Abraham Accords". Bahrain was among the few states to normalise ties with Israel following negotiations spearheaded by former US President Donald Trump.
The deals to establish relations with Bahrain, Sudan, Mrocco, and the UAE were the first peace accords between Israel and Arab states in decades, after peace treaties with Egypt in 1979 and Jordan in 1995. Earlier this week, an Israeli delegation arrived in Bahrain for a celebration marking the Jewish holiday of the Simchat Torah. It was also the first time in over 75 years that the community had the holiday in its synagogue.