National and citizens' interests top priority for Bahrain
TDT | Manama
The Daily Tribune – www.newsofbahrain.com
National and citizens' interests are always given the top priority in Bahrain's fight against the coronavirus (COVID-19) and its goal to achieve economic recovery.
All resources are harnessed to support efforts to mitigate the pandemic, in line with the directives of His Majesty King Hamad bin Isa Al Khalifa, supported by the government, chaired by His Royal Highness Prince Salman bin Hamad Al Khalifa, the Crown Prince and Prime Minister.
Finance and National Economy Minister Shaikh Salman bin Khalifa Al Khalifa made the remarks during a remote meeting with editors in chief of local newspapers, as he commended the Kingdom's success in combating the COVID-19.
Shaikh Salman stressed the importance of mustering all efforts to deal with the pandemic fallout, achieve economic recovery and meet aspirations that would benefit citizens and economic sectors and attain the goals of the fiscal balance programme by 2024.
He stressed the need to adopt the best option which would have the least impact on citizens, particularly low-income segments.
The minister stressed keenness on exempting 94 food commodities from the Value Added Tax (VAT), in addition to 1,400 governmental services.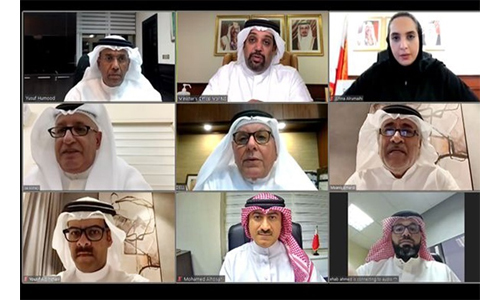 Shaikh Salman commended positive cooperation with the legislative branch of government to implement projects which contribute to national development, hailing the role of the national press which represents an indispensable partner in ensuring the success of national projects.
BCCI role praised
Shaikh Salman hailed the Bahrain Chamber of Commerce and Industry (BCCI) role and contributions to national development, stressing the importance of harnessing all efforts to continue implementing the fiscal balance programme and achieve its objectives by 2024. This came as Shaikh Salman yesterday held a meeting with BCCI Chairman Sameer Abdulla Nass.
The meeting was attended by Labour and Social Development Minister Jameel bin Mohammed Ali Humaidan and Industry, Commerce and Tourism Minister Zayed bin Rashid Al Zayani.
The minister underlined the need to pursue dedicated efforts to support the national economy and the private sector, spur growth and create jobs for citizens.
He said that the stimulus package which was launched by the government contributed to maintaining development projects and programmes, supporting sustainable growth, and mitigating the impact of the pandemic on the private sector and citizens. Nass said that the trading and investment environment is ready to recover the pre-pandemic rates of economic growth, stressing the crucial importance of supporting the fiscal balance programme to achieve its goals by 2024.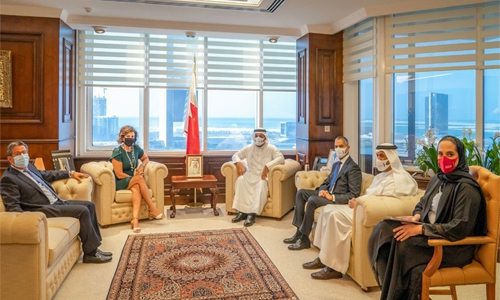 Shaikh Salman with Head of Citibank Group for the Middle East and North Africa (MENA) Elissar Farah Antonios and Citi Country Officer and Corporate Banking Head-Citi Bahrain, Michel Sawaya. During the meeting, which was attended by the Economic Development Board (EDB) Chief Executive Officer Khalid Humaidan, the minister commended years-long cooperation between Bahrain and Citibank, which ranks among the pioneering international financial institutions.