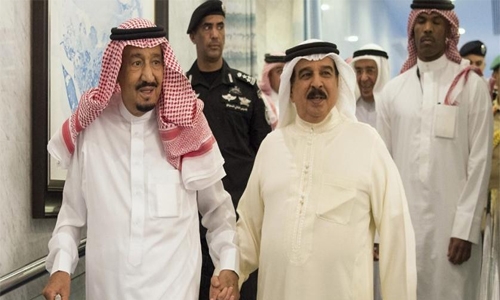 Saudi Arabia is Our Home… Celebrating 91 years of remarkable achievements
TDT | Manama
The Daily Tribune – www.newsofbahrain.com
Bahrain today joins Saudi Arabia is celebrating its 91st National Day, proud of its deep-rooted, close and distinguished ties.
Bahrain is also proud of the global standing attained by Saudi Arabia thanks to its special political, security and economic weight as well as of the vision that will take Saudi Arabia to new heights under the wise leadership of the Custodian of the Two Holy Mosques King Salman bin Abdulaziz Al Saud.
Ever since its establishment by the founding King Abdulaziz bin Abdulrahman Al Saud, Saudi Arabia has been strong and self-confident in moving forward while honouring its leaders' commitment to building a thriving state with advanced and successful political, economic, social, financial, educational, athletic, security and military characteristics.
The diversification of the economy, the empowerment of the society, the launch of megaprojects across the Kingdom, the openness on the world and the robust commitment to peace, security and stability in one of the world's most challenging regions are clear testimonies of Saudi Arabia's progress.
The success in confronting the COVID pandemic and in dealing with its local, regional and international effects, including the Saudi crucial role in maintaining balance in the international oil markets, is another testimony of how the Kingdom is well equipped to manage crises no matter how fierce their onslaught is.
The massive and ambitious projects launched under the Economic Vision reflect the Kingdom's pragmatic view and realistic assessment of global developments and offer new opportunities to attract global investments, provide wider employment options and enhance the overall well-being of the Saudi society.
The bold commitment to protecting the globe from the devastating effects of climate change was very clear in the announcement of the Saudi Green Initiative and the Middle East green Initiative to plant collectively 50 billion trees.
The two initiatives, warmly applauded by the international community, also aim to propel the Middle East region toward achieving more than 10 per cent of global carbon emissions reduction targets.
The theme of this year's National Day is "Heya Lana Dar," meaning "Saudi Arabia is Our Home", inspired by deep Saudi traditions to welcome people from diverse backgrounds, make them feel at ease and appreciate all the great and beautiful things that make Saudi Arabia feel like home to them.