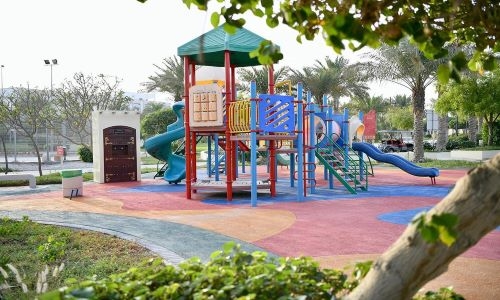 Converting park and walkway play areas into rubber floors in Bahrain
TDT | Manama
The Daily Tribune – www.newsofbahrain.com
An integrated plan has been developed to replace several sandy floors for play areas in parks and walkways with rubber floors. The approach comes in line with the directives of Works, Municipalities Affairs and Urban Planning Minister Eng.
Essam bin Abdullah Khalaf to work on the continuous development of parks and walkways for the public.
According to Undersecretary for Municipal Affairs, Engineer Shaikh Mohammed bin Ahmed Al Khalifa, the aim is to replace some of the floorings with a high-quality rubber that takes into account the elements of security, safety and the character of modernity, as well as meets the needs of its users and encourages them to walk or run. Minister Khalaf explained: "The rubber floors used in public facilities and gardens have many characteristics that make them better than the ground space.
"In the latter play areas, they are affected by several factors, including the movement of children, the movement of wind and rain, and therefore they are subject to constant displacement and changing characteristics, which requires replacement and redistribution constantly."