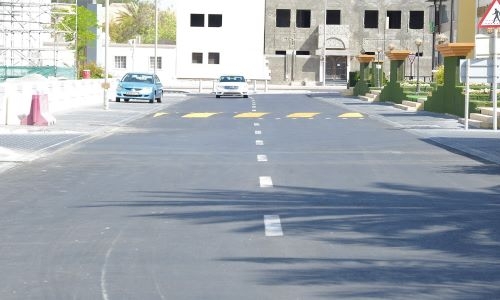 Riffa road development project completed ahead of schedule
TDT | Manama
The Daily Tribune – www.newsofbahrain.com
The Ministry of Works, Municipalities Affairs and Urban Planning has completed the development work on Complex 914 in Riffa ahead of schedule.
The Director of Roads Projects and Maintenance Department at the Ministry, Eng. Sayed Badr Alawi said the project will serve the residents of the complex and the users of these roads in the region as it will improve the internal road network in the area.
He explained that the project included the rehabilitation of a group of roads in the complex and the construction and implementation of a rainwater drainage network.
It will reduce rainwater accumulations on roads 1401 and 1412 by laying channels and underground pipes with a diameter of 500 mm, with the implementation of ground drains and the establishment of ground tanks to collect rainwater.
Alawi said: "Works also included the reconstruction and paving of some internal roads by removing the old asphalt layer and replacing it with new asphalt layers, and the replacement of the buried layers with new suitable materials, in addition to re-paving these roads with a new layer of asphalt, constructing new sidewalks and the necessary maintenance work for the sidewalks."
The old side roads within the complex were also developed and the level of traffic safety was enhanced.
The project has been awarded to JASCO by the Tender Board to implement civil works and stormwater drainage works, and to the Eastern Asphalt Company to implement the asphalt works, at a total cost of BD160,000.
The Municipal Council member representing the Sixth District in the Southern Governorate, Khaled Janahi, thanked the Works Ministry for the cooperation that contributes to achieving the needs and requests of citizens and residents.
He pointed out that the project will contribute to facilitating the movement of citizens, in addition to solving the problem of rainwater collection.