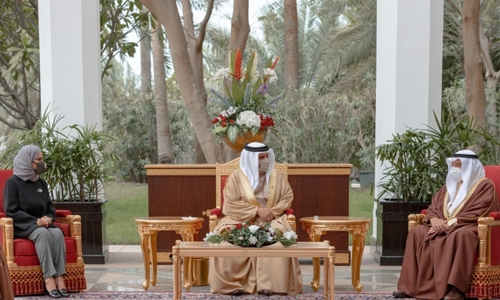 HM King hails legislative and executive cooperation towards progress
TDT | Manama
The Daily Tribune – www.newsofbahrain.com
His Majesty King Hamad bin Isa Al Khalifa has expressed pride in the great efforts exerted by the legislative branch to carry out its constitutional duties and support Bahrain's march towards more progress and prosperity.
His Majesty also hailed the Shura and Representatives councils' key role in promoting the democratic concepts emanating from the deep-rooted national culture and values.
This came as HM the King received Shura Council Chairman Ali bin Saleh Al Saleh and Council of Representatives Speaker Fawzia bint Abdulla Zainal, along with their deputies, at Al Sakhir Palace yesterday.
They submitted to HM the King the two chambers' replies to the keynote royal speech during the opening of the Third Session of the Fifth Legislative Term.
HM King Hamad expressed thanks and appreciation to the councils for their role in defending the interests of the nation and developing the legal and legislative system in a way that meets the citizens' aspirations.
He lauded the level of cooperation and coordination between the executive and legislative branches to build on the previous achievements and gains as part of the Kingdom's comprehensive development.
The Shura head, Speaker and all those present expressed their thanks and appreciation to HM the King for his sound directives and support for the legislative branch, which, they said were a catalyst for enriching parliamentary work and attaining more achievements for Bahrain and people.
The Shura Council said that HM the King's vision on the need to give top priority to the speedy recovery of the national economy, in cooperation with the private sector, requires concerted efforts and initiatives that would support the kingdom's endeavours to return to the positive economic growth rates.
The Council also backed the royal call for public and private investment institutions to invest more in value-added fields, especially regarding digital transformation, the medical sector and self-sufficiency, within the framework of constructive legislature-executive cooperation.
On the coronavirus issue, HM the King expressed deep pride in the noble humanitarian efforts exerted by Team Bahrain, led by His Royal Highness Prince Salman bin Hamad Al Khalifa, the Crown Prince and Prime Minister, and all the relevant authorities that are dedicated to implementing all measures to limit the spread of the virus.
The Council of Representatives appealed to HM the King to ensure that all medical and security teams, as well as employees and volunteers in the frontlines enjoy the royal care.
HM King Hamad expressed appreciation for the important successes made by Bahrainis across various fields, voicing pride in their keenness to enhance the kingdom's leading status and lift its banners at all international gatherings.