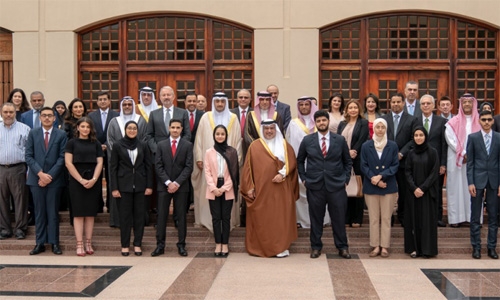 CPISP nurturing minds of future generations through education
TDT | Manama
The Daily Tribune – www.newsofbahrain.com
The Crown Prince's International Scholarship Program aims to nurture the minds of our future generations through education.
His Royal Highness Prince Salman bin Hamad Al Khalifa, the Crown Prince and Prime Minister established the Crown Prince's International Scholarship Program in 1999 to guide Bahrain's young people into the 21st century.
Under the programme, the most able high school students from Bahrain are awarded scholarships to continue their higher education overseas, and return to productively contribute to the development of Bahrain.
The Program provides Bah- rain's most gifted and talented youth the opportunity to learn at the finest international educational institutions.
Further, it provides its scholars with career development support and training; equipping them with the necessary tools to become effective decision-makers who contribute to Bahrain's development, both nationally and globally.

The Program is privately funded by HRH Prince Salman and various local and international sponsoring organizations and individuals who share HRH's vision of equipping outstanding young Bahrainis with the necessary tools to excel and achieve their aspirations and contribute to the building of a modern Bahraini state.
Ten fully funded University scholarships are awarded on an annual basis to young men and women from both governmental and private secondary schools, based on their academic merit. The selection criteria include SAT and IELTS scores, Grade Point Average (GPA), and results of training programs organized by the CPISP.
Scholars from Ministry of Education schools are placed into boarding schools for a period of two years, where they obtain either an American High School Diploma or complete their A-Levels, before applying to university.
Since its inception, over 160 of Bahrain's brightest high school graduates have been selected to pursue higher education degrees at top international universities around the world. 

The Program provides its scholars with training and a solid international educational foundation, in addition to continuous opportunities to gain work experience and international cultural exposure.
HRH the Crown Prince meets with all scholars sponsored by the CPISP during their holiday breaks in Bahrain to personally follow up on their progress.
Scholars choose their own desired field of study and ac- credited university they gain acceptance to, provided that it is outside of the Kingdom of Bahrain and the region, to ensure international cultural exposure.
The CPISP provides its scholars with internships and career development guidance, and facilitates them with job placement after graduation.
The Program organizes courses and training for all qualifying candidates applying for scholarships, as part of the overall selection process.