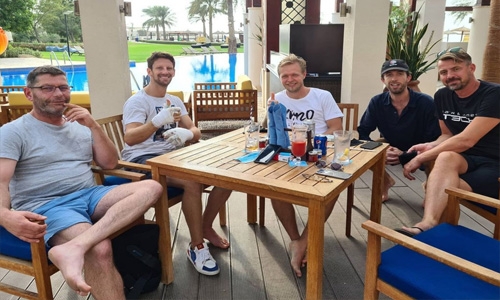 F1 driver Grosjean discharged from BDF Hospital
TDT | Manama
The Daily Tribune – www.newsofbahrain.com
Formula 1 driver was all smiles yesterday after being discharged from the Bahrain Defense Force (BDF) Hospital following three nights of treatment for the burns he suffered in the horrifying crash at the F1 Gulf Air Bahrain Grand Prix last Sunday at Bahrain International Circuit.
According to reports, Grosjean had burns on the back of his hands, which he had suffered while escaping the flames that engulfed his car in the incident.
Grosjean left the hospital in the morning and joined his peers at their hotel.
The Frenchman posted on social media later in the day a picture of himself with fellow-Haas driver Kevin Magnussen and others. He posted another image of his hand and wrote: "My right hand this morning. The happiness I had when I was told that I didn't need the full dressing anymore and could use my finger was huge. Almost cried. A victory on my way to recovery."
Grosjean will not be racing at this weekend's F1 Rolex Sakhir Grand Prix at BIC and it is still unknown if he will be able to return for the season-ending race in Abu Dhabi later this month.