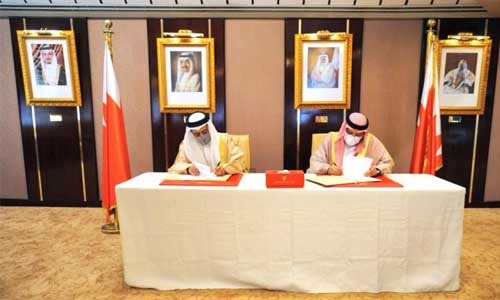 Expat workers to receive administrative assistance in filing labour lawsuits online
TDT | Manama
The Daily Tribune – www.newsofbahrain.com
Expatriate workers will now receive administrative assistance in filing labour lawsuits online, officials have announced.
A Memorandum of Understanding regarding this was signed today between the Justice, Islamic Affairs and Endowments Minister Shaikh Khalid bin Ali Al Khalifa and the Labour Market Regulatory Authority (LMRA) CEO Osama bin Abdullah Al Absi.
According to the memorandum, the LMRA's Grievances and Protection department will undertake the task of providing administrative assistance to expatriate workers in filing labour lawsuits online and follow them up with the ministry. The applicant will be provided with all the information they need and be able to access its progress from the time the lawsuit is filed until the ruling is made. Assistance will include providing administrative assistance in uploading requests, memoranda and responses, while the ministry will provide the required technical support to LMRA.
The Minister of Justice stressed the importance of this cooperation, which aims to strengthen the system of joint governmental work, and to provide assistance to expatriate workers, to enable them to benefit from the legal administrative facilities provided by the Kingdom of Bahrain to access justice in all its aspects, especially workers' rights.
Mr Al Absi said that the authority has appointed a specialized and trained administrative cadre to register and record labour cases.
With the new system in place, an expatriate worker can now receive their case number, know when they have a meeting with the judge as well as the court hearing dates. The LMRA will also provide the worker with qualified translators in several languages.
Mr Al Absi stressed the importance of this cooperation, which embodies the spirit of one team; the keenness to support access for all to justice, and the government's approach to integrate work to raise efficiency and reduce cost.