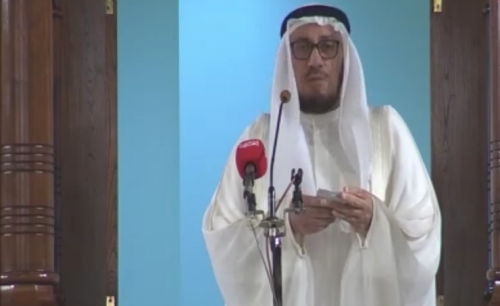 Stay at home, make virtual visits, to beat pandemic: Imam
Manama
Al-Fateh Grand Mosque Imam yesterday called on all to stay at home and make use of virtual means to communicate with friends and relatives amid the deadly outbreak.
"Stay at home, except for limited pur- poses, during the current exception- al circumstances created by the novel coronavirus (COVID-19)," said Shaikh Adnan bin Abdulla Al-Qattan during Eid Al-Adha and Friday sermons.
"It's the best means to protect the health and safety of everyone," he said affirming that Islamic Sharia and the Sunnah of Prophet Mohammed (PBUH) urge adopting means to reach an end.
He also called for supplicating to Allah the Almighty to lift the pandemic.
Everybody should "commit to the health guidelines issued by the relevant authorities," the Imam said.
True believers place their trust in Allah the Almighty, he said noting that epidem- ics will disappear and joy and happiness will return.
The Imam also urged to pay no heed to rumours and inaccurate news on social media or spread them by reposting.