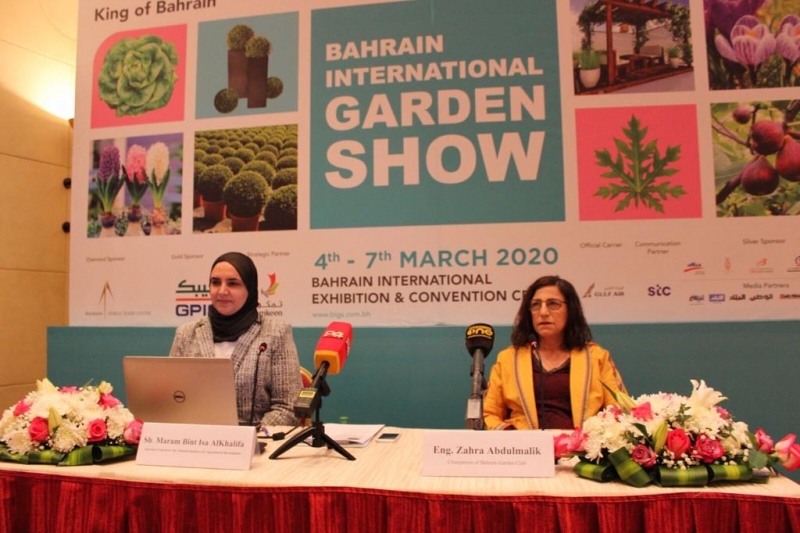 'Water: Regenerating Life' theme of BIGS 2020
Manama
Under the patronage of His Majesty King Hamad bin Isa Al Khalifa, and the continued support of Her Royal Highness Princess Sabeeka bint Ibrahim Al Khalifa, Wife of HM the King, President of the Consultative Council of the National Initiative for Agricultural Development (NIAD), Bahrain International Garden Show (BIGS) will be officially inaugurated on March 3 at the Bahrain International Exhibition and Convention Centre (BIECC) and will be open to the public on March 4-7.
"The show is a unique event as it combines being a commercial exhibition that contributes to creating important opportunities for participating organisations to expand their activities locally, regionally and internationally, with the education and knowledge it spreads as it offers chances to exchange experiences and opinions, introduces the latest innovations and provides awareness on the best ways and methods to care for gardens and green areas and to protect the environment," NIAD Secretary General Shaikha Maram bint Isa Al Khalifa said at a media conference.
Throughout the previous editions, the show managed to create an important bridge for communication and to enhance fruitful co-operation between participating regional and international companies, as well as local participants, which paved the way for companies to enter the region's markets and strengthen their positions and shares within them, Shaikha Maram added.
"Every year the exhibition focuses on a different theme that represents a pressing issue facing the agricultural sector in order to work on improving systems and methods, and find solutions and alternatives that contribute to the sustainability of the agricultural sector in the Kingdom," she said.
"This year the show is held under the theme 'Water: Regenerating Life' and will focus on the importance of water and how to preserve it to guarantee its sustainability as it is the source of life on earth. It is expected that the rate of water consumption will continue to increase by up to 20 to 30 per cent by the year 2050, which will exacerbate the problem if proper solutions are not implemented from now and if the culture of correct practices in using water resources is not spread."
The theme stand will highlight several water-related topics including some statistics on water consumption in Bahrain, the importance of working to achieve water security which is closely related to food security, and the role individuals play in conserving water in homes and domestic gardens.
This year, more than 200 exhibitors will showcase their designs, products, technologies and innovations over a 7,000 sqm space.
The participants this year come from 27 countries including Italy, Spain, Germany, France, Russia, Netherlands, Greece, USA, Japan, Poland, Turkey, India, Pakistan, Indonesia, Malaysia, Thailand, Central African Republic, and Kyrgyzstan as well as several agricultural companies from regional and Arabic countries like Saudi Arabia, UAE, Kuwait, Oman, Morocco, Jordan, Palestine, and Egypt.