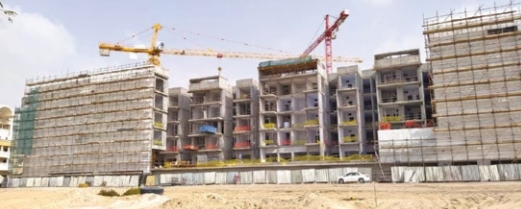 Kingdom's 'construction sector, a pillar of growth'
Driven by the Kingdom's Economic Vision 2030 agenda, which was launched in October 2008, construction is set to play a major part in the country's economic growth as it looks to reduce its dependency on the oil and gas sector, according to experts. Among the sectors that Bahrain is targeting is real estate, with several residential projects being built by the country's major players.
Bahrain Bay, a 100 per cent privately-owned development, is gaining momentum in the country, and CEO Gagan Suri was quoted by media that he sees Bahrain Bay playing a significant role in Manama's growth story. "In my opinion, the future of Manama is in Bahrain Bay. Many years from now, this will define the skyline of Manama," Suri said.
"We are about 25 per cent vertically developed and we have another 20pc under development. This is almost 50pc that has happened or is happening as we speak." Suri elaborates about the type of real estate construction happening throughout Bahrain Bay, including its first residential towers within the area.
"We are always trying to be ahead of the game. We are trying to put the horse before the cart. We have our Waterbay development, which is three residential 10-storey towers. "The middle tower is very close to completion in a matter of not months, but weeks, and this will be the first time in Bahrain Bay that we will have people starting to live here." He adds: "The other two towers of Waterbay are not that far behind the middle tower, maybe a few months behind the first delivery.
Within this area, we will cumulatively have close to 600 apartments coming to Bahrain Bay, which is substantial." This is just the beginning for real estate projects in Bahrain Bay, with plans for a Four Seasons apartment concept and the Golden Gate residential project. "The Golden Gate development will have the tallest residential towers in Bahrain.
The other project that is on the ground right now is the One Bahrain. Most people recognise it from the contractor which is Kooheji, and they are building residential towers as well," Suri explains. "We are also working on Four Seasons apartments – the piling and construction of this should start very soon." In addition to residential, hospitality is also a key part of Bahrain's on-going construction progress, with a Hilton hotel being developed within the first phase of The Avenues development.
The main contractor for the building works of the hotel is Abdulla Nass Contracting, and the property is expected to be completed by November 2020. Bahrain's 12.2 sq km masterplanned Diyar Al Muharraq megaproject, which is being constructed in four to five phases, is also capitalising on the demand for hospitality and residential developments. Established as part of a joint venture with Abu Dhabi-based real estate developer Eagle Hills, construction work on Diyar Al Muharraq began in 2007, which the development's chief executive officer, Ahmed Alammadi, told CW is a "huge" masterplan for any region, especially for a "small island such as Bahrain".
Edamah, the property development arm of Bahrain's sovereign wealth fund Mumtalakat, also said that 2020 would be the "year of delivery" for the kingdom as it focuses on the deliveries of three major projects. Bahrain Economic Development Board's director of business development for the real estate sector, Ali Murtaza, outlined that the growth for the country has been driven primarily by government investment into infrastructure to develop sectors for the future. "From our side, we have committed about $32bn worth of investment into public and private infrastructure.
Around $7.5bn out of that came from the GCC support fund, another $10bn came from semi-government entities, and an additional $10-15bn came from the private sector," Murtaza tells Construction Week