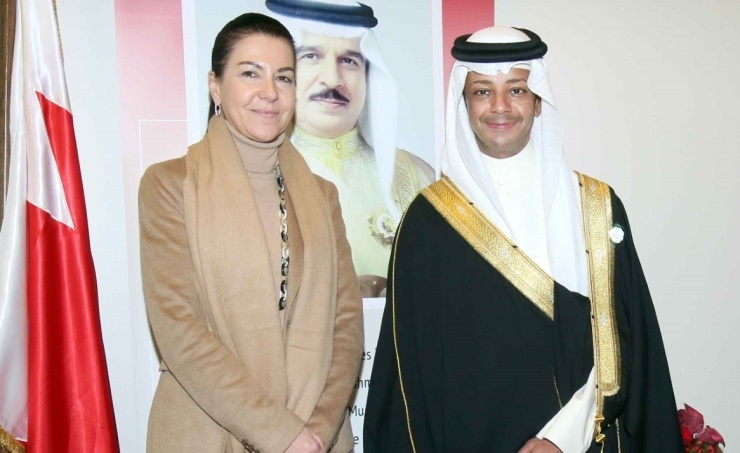 Bahrain National Days marked at UN
On the occasion of the Kingdom of Bahrain's national celebrations on 16 and 17 December, in commemoration of the establishment of the modern Bahraini state as an Arab and Muslim country founded by Ahmed Al Fateh in 1783, the 48th anniversary of its full membership in the United Nations, and the 20th anniversary of His Majesty the King's Accession to the Throne, the Permanent Mission of the Kingdom of Bahrain to the United Nations held a reception, on December 12, at the United Nations Headquarters here.
The Permanent Representative of the Kingdom of Bahrain to the United Nations, Ambassador Jamal Faris Al Alrowaiei, alongside his wife and members of the Permanent Mission, received the attendees celebrating this special national occasion.
During his remarks on this occasion, the Permanent Representative highlighted how our celebrations this year also coincide with many significant occasions, as the Kingdom celebrated this year the 100th anniversary of the start of formal education, noting in this regard the selection of "Bahraini women in the field of higher education and future sciences" as a theme to celebrate Bahraini Women's Day this year, which is celebrated annually on December 1st.
The Permanent Representative added that since the early 1930s, Bahraini women participated on an equal basis with men in municipal council elections, and women today hold 55% of supervisory positions in Bahrain, expressing Bahrain's pride in the outstanding achievements of women.
The Permanent Representative also noted that the Kingdom of Bahrain, as an Arab Muslim country known for its religious and cultural heritage, was the first to embrace churches, cathedrals, Hindu temples and Jewish temples in the region, which were built since early 1900 and making it available for everyone to practice their religious rites freely.
He a commended the Bahrain National Football Team after its victory in the Gulf Cup, affirming that the Kingdom of Bahrain is already witnessing a year of abundant achievements, led by His Majesty the King. The ceremony was attended by senior officials of the United Nations, ambassadors, delegates of permanent missions to the United Nations, and a number of Bahraini citizens, in addition to a number of invitees from various organs of the international organisation.