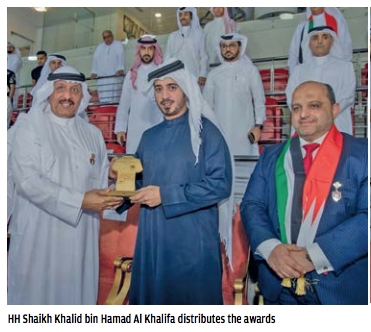 Shaikh Khalid crowns winners of Super Handball match
HH Shaikh Khalid bin Hamad Al Khalifa, First Deputy Chairman of the Supreme Council for Youth and Sports and President of Bahrain Olympic Committee crowned Al Sharjah handball team of UAE as winners of the Bahrain-UAE Super Handball Match after defeating Barbar 27-26.
HH Shaikh Khalid attended the match in the presence of Mohammed Hassan Al Nisf, Secretary-General of Bahrain Olympic Committee, Shaikha Hayat bint Abdulaziz Al Khalifa, member of Bahrain Olympic Committee and President of Bahrain Tennis Association and MP Ali Isa Ishaqi, President of Bahrain Handball Association as well as other officials and MPs. On this occasion, HH Shaikh Khalid bin Hamad Al Khalifa expressed his delight at the extraordinary performances shown during the match, describing the event as a huge success. He also congratulated Al Sharjah team for winning the trophy.