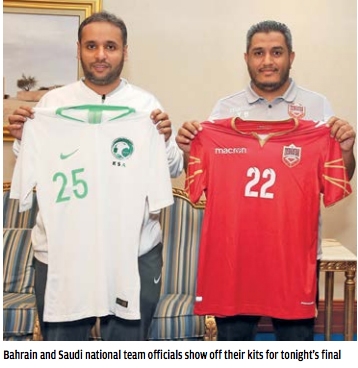 Bahrain has all eyes on maiden title
Bahrain head coach Helio Sousa welcomes the pressure the national team is facing as they get set to lock horns with Saudi Arabia tonight for the coveted title in the 24th Arabian Gulf Cup in Doha. The Bahrainis are gunning for their first-ever crown in the prestigious regional competition. Sousa says that now that they are in a position to realise their dream, they must make the most of this golden opportunity. "The pressure we are feeling is not more than the pressure we put in every training," Sousa said yesterday in his official prematch Press conference at the Qatari capital.
"The pressure of winning and the pressure of being better – this is the kind of pressure we want. "We are trying keep building up our team and not to be satisfied with what we conquered before. It is not enough. "In football, you can stay where you are or you can keep growing what you are doing. This is the pressure we are talking to our players about, the good pressure. It is the pressure for winning." The title-decider is scheduled for a 7pm kick-off at Doha's Abdullah bin Khalifa Stadium. It will be the second meeting between Bahrain and Saudi in this year's Gulf Cup.
The Saudis claimed the first contest during the group stages 2-0, but Bahrain will be better prepared this time, says Sousa. The Portuguese tactician stressed that the nationals approach every game to win, and they will be no more determined to do that than today. "We came here to reach the final and win," Sousa said. "That was our proposal coming here when we started – to go to every game to win, and we are preparing ourselves during our training sessions to be in the best conditions to win against any team. "We must have that mentality and we must build conditions to be able to do that in every game. That is what we are working for since we first began working with Bahrain. "When we are there playing 90 minutes, we are there all the time, trying to get the best of the game to win. Every time to win." Sousa noted that Bahrain are not doing anything different in their preparations for the the final.
Instead, they will continue the work they have already been putting in for the overall development of their squad. "As before, we are working inside our methodology; we are focused on ourselves and trying to do better what we did not so well in the last games," Sousa explained. "What we did not do so well in the game we already played against Saudi, we must do better to be stronger and to have more conditions to win this game. Of course, we hope to get better situations to score against them, but we must also be more efficient." Sousa once again called on his players to enjoy the final and make the most of the moment, as it will be a major experience that will help in their growth for the future. "We care about winning but we are also preparing a team for the future; not just 11 players or 12 or 13," he said. "Our league is semi-professional and the best stage for our players to keep growing is a tournament like this with high-level games, playing against top players and top teams.
"These are the means we have to do with our players and as we said before we believe in all of them, not just the 23 that are here with us. Some of them already made history for us but are not here. "The other players are showing their quality and asking for the opportunity with the way they are training and the compromise they have with us. We are here relaxed knowing that all of them can deliver, and knowing all the time that they will deliver their best to make our team stronger, and be the best as we can be in each game and in each training." Bahrain concluded their preparations last night for the highly anticipated final. The official pre-match technical meeting was held yesterday, where it was confirmed that Bahrain would be wearing their red kits while Saudi will be using their white uniforms. Sousa was joined at his prematch Presser by midfielder Mahdi Humaidan and national team official Mohammed Abdulghaffar.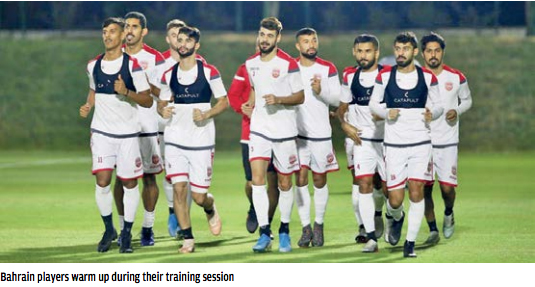 Bahrain has all eyes on maiden title