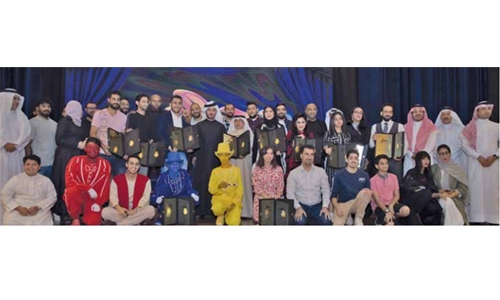 Theatre movement gaining momentum: Shaikh Khalid
Bahrain's theatre movement is scaling new heights of excellence thanks to the creative works of Bahraini youth that carry many noble goals to the society, said His Highness Shaikh Khalid bin Hamad Al Khalifa. The theatres of youth centres, national clubs and people with disability are rich with young talents who are widening the horizons of Bahraini theatre movement, His Highness Shaikh Khalid said.
HH Shaikh Khalid, the First Deputy President of the Supreme Council for Youth and Sports, and President of Bahrain Olympic Committee, was patronising the closing ceremony of Khalid Bin Hamad Youth Theatre Award Festival for National Clubs, Youth Centres and People with Disabilities, held at Muharraq Model Youth Centre in Busaiteen. The fest, Shaikh Khalid said, has granted creative Bahraini youths an opportunity to present their artworks, develop and contribute to the theatre movement in the Kingdom.
Now in its fifth edition, the fest aimed at enabling the youth of Bahrain in all fields to reaffirm that they are the "most effective element and real wealth of the Kingdom and its promising future." HH Shaikh Khalid praised the plays and the national goals it carried.
The initiative was in line with the vision of His Highness Shaikh Nasser bin Hamad Al Khalifa, Representative of His Majesty the King for Charity Works and Youth Affairs, and President of the Supreme Council for Youth and Sports, and follows the principles and policies of the National Youth and Sports Development Programme-Estijabah.
The Winners
The first, second and third awards of the festival went to Saar Club, Al Hala Club and Bahrain Deaf Society, respectively. Best Promising Talent Award went to the Royal Charity Organisation, Best Outfit Award to Hamala Youth Centre, Best Makeup Award to Bahrain Deaf Society, Best Music Composition and Best Lighting Awards to Saar Club, Best Decoration Award to Bahrain Deaf Society and other awards to the participating individuals, as well as the jury of the festival.
His Highness honoured the winners and veteran Bahraini actors and actresses including Mariam Zeeman, Ahlam Mohammed, Sana Yousif, Jassim Al Sayegh and scriptwriter Aqeel Swar. Aymen bin Tawfeeq Al Moayed, Minister of Youth and Sports Affairs, and several ministry officials and representatives of youth centres, national clubs and renowned figures in the field of art in Bahrain were present.
This year's edition also honoured late Bahraini actors by naming the awards after Mohammed Awwad, Ibrahim Bahar and Mohammed Al Bahdahi who passed away in the last decade. Renowned Bahraini actors and actresses including Salwa Bakheet, Mohammed Yaseen, Mustapha Rasheed and Ahmed Mubarak presented a play.