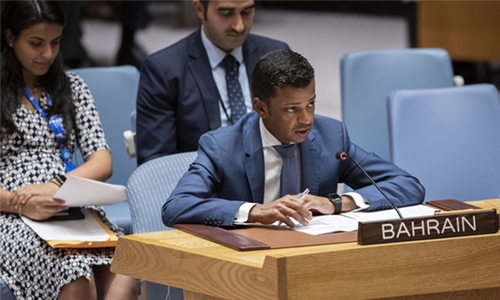 Ensure free flow of trade: HM King
His Majesty King Hamad bin Isa Al Khalifa yesterday urged world nations to ensure the free flow of trade in the Middle Eastern region which is also crucial to the security and stability of the world. "The security and stability of the world depend on the free flow of trade and ultimately depends on what is happening in this important region," His Majesty said in a statement through Bahrain's Permanent Representative to the United Nations Ambassador Faris Jamal Al Ruaie.
Speaking during a debate on "Maintenance of international peace and security: Challenges to peace and security in the Middle East", the ambassador called for joint efforts and commitment of all countries to avoid the danger of long-term security destabilisation. In this regard, he highlighted the upcoming meeting on the safety of maritime and air navigation this year in Bahrain held in cooperation with the United States and Poland.
On the international military meeting held in Bahrain on 31 July 2019, Al Ruaie said the meeting discussed ways to address the repeated attacks and unacceptable practices by Iran and its terrorist groups in the waters of the Arabian Gulf and the Strait of Hormuz. The conference was held after multiple attacks on shipping in the strategic Strait of Hormuz sent tensions soaring between Iran and the US.
Tensions escalated on July 19 when Iran impounded a British-flagged tanker with its 23 crew aboard as it passed through the Strait -- the world's busiest oil shipping lane. Al Ruaie also shed lights on the 11th meeting of the working group to Counter ISIS (Daesh) Finance Group (CIFG), hosted by Bahrain from April 16 -17 this year. Moving on, the permanent representative reiterated Bahrain's firm stance towards the Palestinian cause and its rights to establish an independent state on the borders of 4 June 1967, with East Jerusalem as its capital, based on a two-state solution.
The Ambassador affirmed Bahrain's condemnation of the terrorist attack on a natural gas plant in the Shayba oil field and refinery in Saudi Arabia by the Iran-backed Houthi militias.