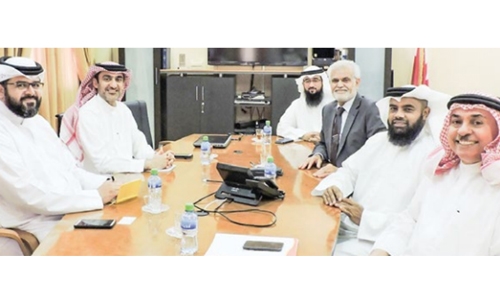 iGA in deal with councils for developing eServices
The Information and eGovernment Authority (iGA) will partner with municipal councils and the Capital Secretariat for the development of eServices. This came as iGA Chief Executive Mohammed Ali AlQaed received in his office at Isa Town yesterday the Chairman of the Capital Municipal Council, Saleh Tarradah, the Chairman of Northern Municipal Council Ahmed Al Kooheji, the Chairman of Southern Municipal Council Chairman Bader Al Tamimi and Muharraq Municipal Council Vice Chairman Hassan Al Doy.
Mr AlQaed commended the efforts taken by the municipal councils and the Capital Secretariat in developing the Kingdom's municipal sector. He stressed iGA's commitment to enhance co-operation among all public sector service providers, including municipal councils, adding that the iGA looks forward to directing the combined efforts of these organisations towards improving the efficiency and quality of services provided to the public.
The meeting discussed methods of strengthening communication with the public, including the possibility of the remaining councils joining the Tawasul suggestions and complaints system, and developing the eServices of the Councils and Secretariat, in line with efforts to speed up the Kingdom's digital transformation. The Municipal Council and Capital Secretariat leaders praised the iGA's role in supporting government institutions and its co-operation with the councils in various fields, particularly those related to eServices and improving communication with the public.