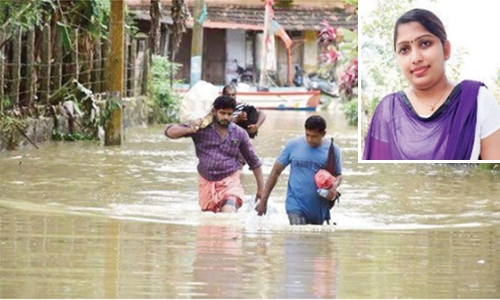 Bahrain resident donates land to flood victims
A Bahrain resident has made the whole humanity proud by donating a plot, which she purchased only a month ago, to flood victims in her village, who have lost their homes. Indian national Jiji George told Malayala Manorama that she decided to give her land to five families after coming to know about their ordeal caused by heavy floods.
At least 121 people have died in flood-hit Kerala according to a state-wide calamity report issued by the government in the second spell of south-western monsoon rains since August 8, this year. At least 40 people have been injured in flood-related incidents while over 21 people are believed to be missing in the state after heavy flooding. As many as 1,789 houses have been completely damaged due to flooding and over 26,000 people have taken refuge in relief camps.
"I was shocked to see the images of flood victims and their sufferings and decided to do something from my part," Ms Jiji said. The 37-year-old, who works with a private firm in Adliya, immediately rang up her mother and three children and conveyed her decision. They would instantly give their consent to the move and Ms Jiji called the local legislator to the State Assembly and informed her decision. The legislator was tasked to pick the five families, who would be the beneficiaries.
Social media was all in praise for Ms Jiji as the vernacular report went viral. "I am really happy for what I have done to my brothers and sisters. We can earn money and wealth any time. "What is most important is to help others when they are in need. "My decision would have stemmed from the challenges I have faced in life." Ms Jiji has been a resident in the Kingdom for more than ten years now.