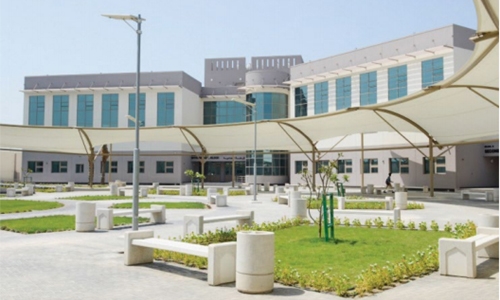 Work on Bahrain's largest public school 'completed'
The Works, Municipalities Affairs and Urban Planning Ministry (MoW) has completed the work on Shaikha Mooza bint Hamad Al Khalifa's Primary and Secondary Girls' School in Jau. The school building has been handed over to the Ministry of Education. Works Affairs Undersecretary at the MoW, Ahmed Abdulaziz Al Khayyat, said that the school is the largest public school in the Kingdom in terms of capacity, cost and facilities.
Covering a total area of 50,000 square metres, and a building area of 26,500 square metres, the school consists of four academic buildings that accommodate 1,440 primary, intermediate and secondary students and includes 48 classrooms. It also includes all modern educational facilities, including multi-purpose laboratories, a library, offices for the educational and administrative staff, a multi-purpose sports hall that is designed to host various sporting events in the Kingdom, in addition to service facilities, including a cafeteria, bathrooms, stores and a room for the guard, the undersecretary said.
Costing BD10,847,560, the mega project was implemented within the GCC Development Project, supported by the Saudi Fund for Development (SFD) and built by the Bahraini-Saudi Arabian consortium of Al Moayed and Nasma Contracting, he added. Mr Al Khayyat pointed out that the project had won the Smart School Building Award during the third Smart and Sustainable Cities Conference 2018, as it was designed to meet the requirements of modern schools and sustainable green buildings, as well as to conserve energy and preserve natural resources.
To improve the facility's easeof-use, a parking lot was developed close to the main entrance for drivers with special needs, and slopes were developed at each building entrance, the official said. Non-slippery vinyl flooring is used to make the school safer for special groups, for whom lifts and toilets have been specially designed as well, he added. Sources said that solar panels have been installed on the roofs of the school buildings in co-ordination with the Electricity and Water Authority (EWA), which will contribute to rationalising energy consumption and saving about 30 per cent of energy.