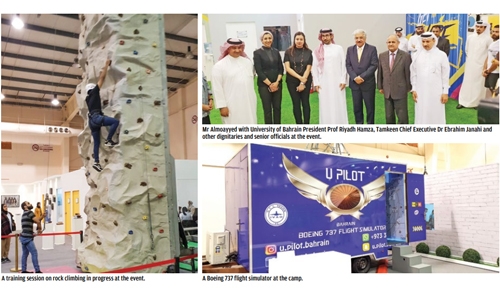 Summer lessons for empowering youths
Manama Youth City 2030, a summer programme to empower the youth, has come back bigger this year. Organised by the Ministry of Youth and Sports, the tenth edition of Bahrain's biggest summer camp is in full swing at Bahrain International Exhibition and Convention Centre.
The event aims to improve the future of the youth of Bahrain by providing classes through which they learn and gain valuable skills. It focuses on key growth areas for Bahraini youth, aiming to promote creative thinking among them and encourage talent in areas such as leadership, media, information technology, arts, languages, science and sport. Youth and Sports Affairs Minister Aymen Almoayyed, senior government officials visited the camp yesterday and interacted with the youth attending the event.
"Hundreds of students are expected to take part in this programme, which is Bahrain's largest summer camp. Experienced teachers will teach various arts and sciences. "The camp is categorised into many sections such as Art, Science, Leadership and Media. Classes for painting, leadership, public relations, cooking, fashion designing, technology, writing, video production, photography and other subjects are on," one of the organisers said.
"The students who take part in this summer camp will attain immense value as there are so many rich and valuable classes being provided. Youth City 2030 is unique because of the many different subjects that are covered under one roof," he added. In a statement marking the launch of the 10th edition of the Youth City 2030 last month Representative of His Majesty the King for Charity Work and Youth Affairs and Chairman of the Supreme Council for Youth and Sports (SCYS) His Highness Shaikh Nasser bin Hamad Al Khalifa said that the camp is a suitable place to focus on the initiatives of the national plan to promote belonging to the nation and boost values of citizenship.
He underlined the efforts made to groom Bahraini youngsters and empower them to meet the requirements of the upcoming phase of national work that necessitates exceptional multiplied efforts by all to achieve the Kingdom's vision 2030. HH Shaikh Nasser underscored the importance of the Youth City in promoting the opportunities for Bahraini youngsters to enrol at the job market thanks to the practical and scientific programmes which will be provided by the city to meet the labour market needs in the Kingdom.
He also pointed out the role of the Youth City 2030 in tapping on the creativity potential of Bahraini youngsters and enhance their participation in the Kingdom's development march.