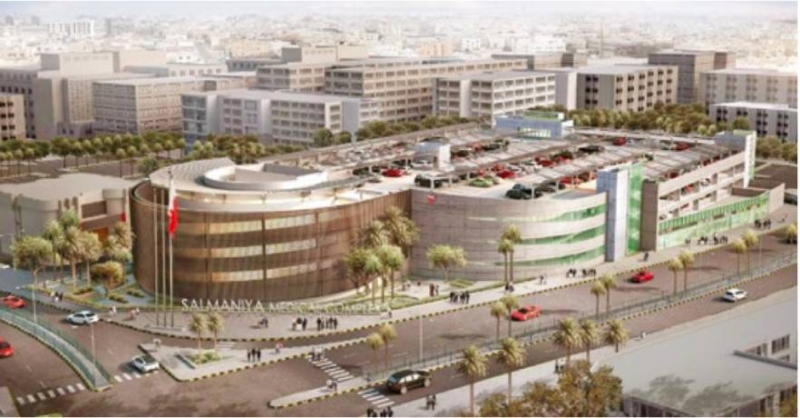 Multi-storeyed project to ease SMC parking woes
Parking woes at Salmaniya Medical Complex (SMC) will soon be remedied as an agreement has been reached to build a multi-storeyed car park. Bahrain Real Estate Investment Company (Edamah), the real estate arm of Bahrain Mumtalakat Holding Company along with the Ministry of Health and Al Ghanah Group finalized the agreement at the Ministry of Health premises recently. High-ranking officials from Edamah, the Ministry of Health and Al Ghanah Group attended the signing ceremony.
The signing of the agreement follows the issuance of tender for the project earlier this year to construct the building. Sources said the project had undergone a technical and financial evaluation. "The construction work for the project will begin by the end of this month.
The project is divided into two phases and the second phase will start after a year." Giving further details about the project, Edamah stated: "This is the busiest hospital in the Kingdom and the Salmaniya multi-story car-park development aims to provide the Salmaniya Medical Complex with an effective and efficient parking facility." "The proposed car-park will be strategically located on the north-east of the Salmaniya Medical Complex, on a 5,700-square meters plot and in the proximity of two main roads (Salmaniya Avenue and King Abdulaziz St).
"Housing 600 cars, the development aims to stand out as an iconic landmark providing the Salmaniya Medical Complex community with what was previously an A-grade parking area to a sustainable car-park facility. The project also aims to relieve and facilitate the traffic flow within the Salmaniya Medical Complex."
Meanwhile, a number of measures are being taken to ensure the reduction in waiting time for patients at the Accident and Emergency Section of SMC. According to sources, the Accident and Emergency Section at the Salmaniya Medical Complex is under immense pressure due to a large number of cases it receives every day.
The hospital is burdened with a huge portion of those who visit the accident and emergency area despite not needing urgent assistance, it is learned.