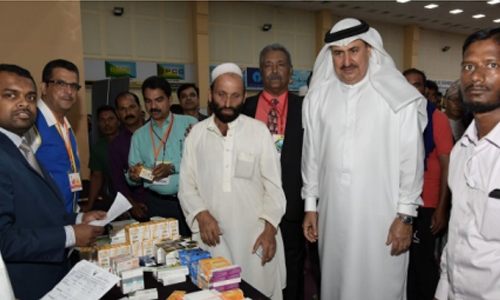 Open meeting held on summer outdoor work ban
The Labour and Social Development Ministry, in cooperation with the Ministry of Health, held an open meeting to raise expatriate workers' awareness on the importance of outdoor work ban during July and August. Labour and Social Development Ministry's Undersecretary, Sabah Salim Al-Dossari, representatives of labour-exporting countries and the safety supervisors from the relevant sectors attended.
Al - Dossari extended thanks to the ambassadors and representatives of countries for attending the key meeting. On the sidelines of the event, the Ministry of Labour and Ministry of Health held an exhibition in which they showcased the efforts and services of the kingdom to protect workers' health.
Clinics and health centres also conducted medical tests on workers. Edict 3/2013 aims to safeguard workers' health, ensure their safety against heat exhaustion and sunstroke as well as prevent summer-related diseases and to reduce occupational incidents because of the increasing temperatures.